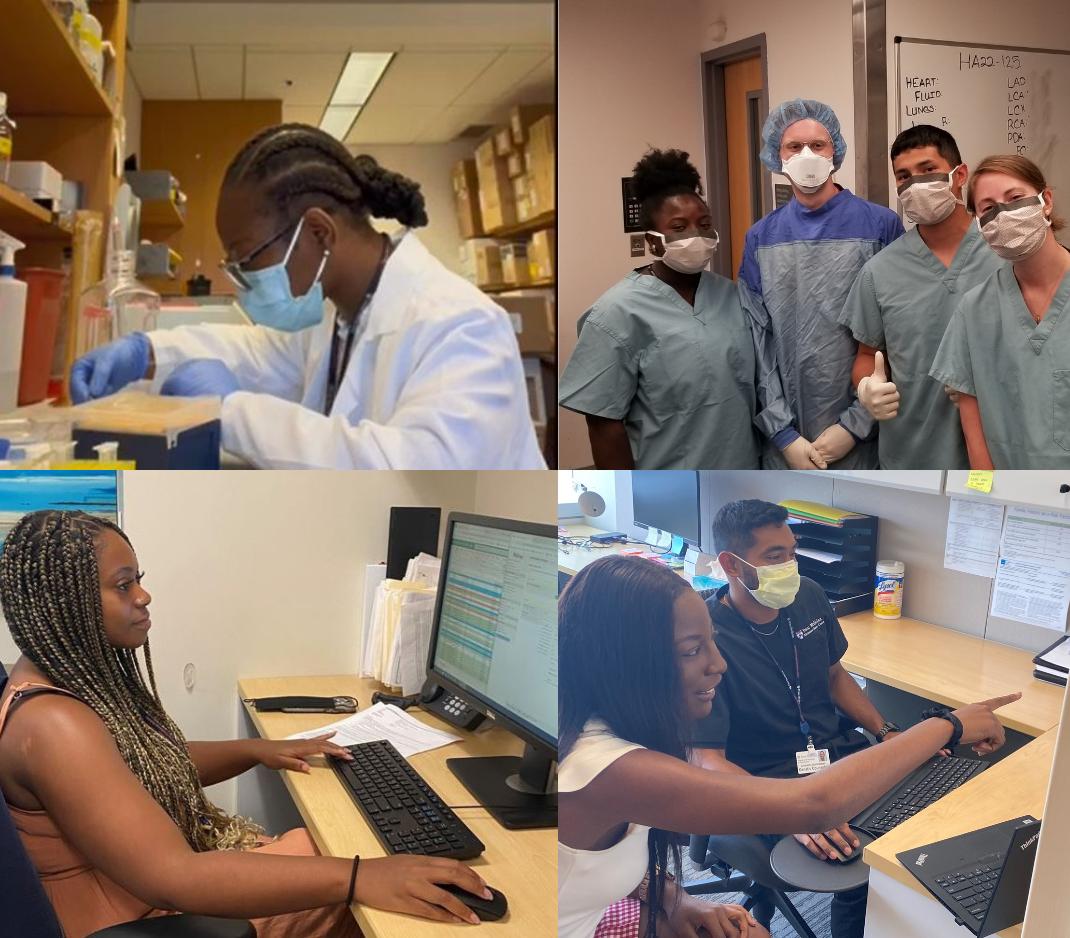 This summer, the Basser Center accepted four undergraduate students to be a part of the Basser Summer Scholars program. Our program focused on helping our interns gain experiences in basic science, cancer genetics, and genetic counseling. With summer coming to a close, our talented interns will soon return to their universities with new knowledge and experiences in cancer genetics having spent the last few months in the lab and in clinical research settings.  
We asked Ashlyne, Ivy, Taliyah and Yvonne to share more with us on what they have learned over the summer and why they enjoyed the program:
In what ways can you use what you've learned in this internship to enhance your experience in the classroom as you finish your degree?

Ashlyne: I will use the learning experiences from the lab and from my research to help with my experiential learning class next semester.
Ivy: I have now solidified that I enjoyed both the research and lab experiences. I learned a lot about genetic counseling from my hands-on experience.
Taliyah: I look forward to reconnecting with my professors to show how what I learned in class was applied to my work in this internship. I will connect the in-classroom learning to in-person application during all patient appointments. I will also now be tweaking my thesis for something I would like to focus on more.
Yvonne: I will be mentoring two girls of color. I hope to encourage them to know that there is a place for them in the science field and that they can overcome the "imposter syndrome" as an underrepresented individual in medicine and research.
 

How has this experience influenced your career objectives?

Ashlyne: I now know that I really enjoy the research field! I will continue with my goal of finishing medical school that will now include a research component.
Ivy: It has confirmed for me that I want to be a genetic counselor outside of the lab and it has taught me to value the space in the patient interaction-relationships by learning people's stories.
Taliyah: This confirmed for me that I want to be a genetic counselor. I also really enjoyed learning about health disparities.
Yvonne: This internship confirmed that the medical school track is the track for me. I was thankful that I was able to see different fields and understand what I was interested in and how I can use this education, training and experience when I return to school.
 

What advice would you give yourself to others doing the internship next summer?

Ashlyne: Go into the experience in the labs without any expectations. No two labs are the same, so it will be different and exciting. Have an open mind and try to be engaging while creating relationships with others.
Ivy: Be willing to do extra work outside of learning and be open to take time to learn on your own to help you be prepared.
Taliyah: To advocate for yourself and to always ask questions
Yvonne: Ask for help! And always advocate for yourself
 

In what way has this internship experience changed you?

Ashlyne: I have increased my lab learning, learned a better process to do conversions, learned how to work more efficiently, and learned to differentiate between the goal of the project and the steps on how to get there.
Ivy: I learned to be more empathetic in regards to people who have been diagnosed with cancer. I was able to learn each patient's stories and understand their experiences more.
Taliyah: Before this internship experience I had always thought that cancer always lead to death. Now, I understand how cancer can be prevented and treated. Cancer is NOT a death sentence.
Yvonne: I have more respect for people who work in the lab. It takes a lot of patience and dedication to work in the lab.
 

Why were you excited to come to this internship every day?

Ashlyne: The people I met in the lab were great! They were so vibrant, filled with a lot of laughter, and helped me with any questions I had.
Taliyah: Every opportunity I spent with a genetic counselor was informative and made me eager to learn more.
Yvonne: I know that this opportunity will help to open many new doors towards my goals.
 
We are grateful for all of our interns' hard work this summer and we look forward to seeing everything they accomplish in the future! We thank you for your interest in raising awareness of saving lives and providing options to those affected by a BRCA mutation.
Learn more about genetic testing and our genetic counselors.