We Take Cancer Personally
Our mission is to see a world free of the devastating effects of BRCA-related cancers.
Innovative Research
By advancing genetics research, carriers of BRCA mutations can live longer, healthier lives. The Basser Center continues to establish a far-reaching network of scientists, geneticists, and physicians dedicated to successfully treating BRCA-related cancers, and preventing them altogether.
Education and Genetic Counseling
The Basser Center is a place where families can turn for education and genetic counseling. We are a leader in raising awareness, which is currently the most effective way to save lives and provide options to those affected by a BRCA mutation.
Generous Support
The Basser Center for BRCA was established at Penn Medicine's Abramson Cancer Center in 2012 by Penn alumni Mindy and Jon Gray, whose total giving to the center is $110 million. Their visionary gift grows stronger every day through the commitment of our generous donors and philanthropic partners.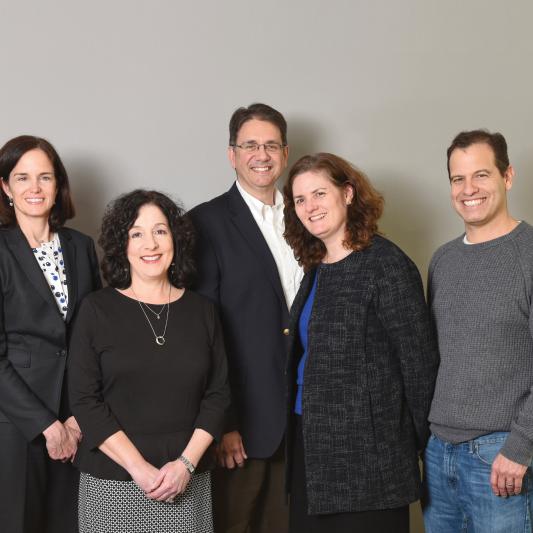 Led by Executive Director Susan Domchek, MD, the Basser Center for BRCA at Penn Medicine's Abramson Cancer Center is home to researchers, physicians and genetic counselors who are leaders in the field of hereditary cancers. Dedicated to eradicating BRCA-related cancers, the Basser Center builds upon the strengths of the Abramson Cancer Center's formidable cancer genetics, vaccine research, and oncology programs.
Chair
Glen Gaulton, PhD
Vice Dean and Director, Center for Global Health
Robert Vonderheide, MD, DPhil
Director, Abramson Cancer Center
Alison Loren, MD, MSCE
Chief of Division of Hematology Oncology
Elizabeth Howell, MD, MPP
Chair of Obstetrics and Gynecology

Jonathan Epstein, MD


Executive Vice Dean and Chief Scientific Officer of the Perelman School of Medicine
Chair
John Petrini, PhD
Chair of the Molecular Biology Program at Memorial Sloan Kettering Institute
Alan Ashworth, PhD
Director of UCSF Helen Diller Family Comprehensive Cancer Center
Olivera J. Finn, PhD
Distinguished Professor at University of Pittsburgh, Departments of Immunology and Surgery
Judy Garber, MD, MPH
Director of Center for Cancer Genetics and Prevention at Dana-Farber Cancer Institute
Andrew Godwin, PhD
Deputy Director of the University of Kansas Cancer Center
Allison Kurian, MD, MSc
Professor of Medicine and of Epidemiology and Population Health at Stanford University
Angela Bradbury, MD
Medical Oncologist
Bryson Katona, MD, PhD
Gastroenterologist
Daniel Lee, MD, MS
Urologist
Kara Maxwell, MD, PhD
Medical Oncologist
Vivek Narayan, MD, MS
Medical Oncologist
Kim Reiss-Binder, MD
Medical Oncologist
Payal Shah, MD
Medical Oncologist
Avi Anantharajah, MS, LCGC
Genetic Counselor
Jackie Cappadocia, MS, LCGC
Genetic Counselor
Dana Clark, MS, LCGC
Senior Genetic Counselor
Jessica Ebrahimzadeh, MS, LCGC
Genetic Counselor
Mosetta Harris, MSN, CRNP
Oncology Nurse Practitioner
Jessica Long, MS, LCGC
Genetic Counselor
Derek Mann, MS, LCGC
Genetic Counselor
Danielle McKenna, MS, LCGC
Genetic Counselor

Joanna Mercado

, MS, LCGC
Genetic Counselor
Kimberly Molinari, CRNP, MSN
Oncology Nurse Practitioner
Jacquelyn Powers, MS, LCGC
Associate Director of Genetic Counseling
Kelsey Spielman, MS, LCGC
Genetic Counselor
Lauren Cuff
Genetic Counseling Assistant
Jamie Brower
Research Project Manager
Sabrina Davila
Patient Services Associate
Rhonda Kitlas Gillette
Research Project Manager
Patricia Lafferty
Program Coordinator
Caitlin Orr
Clinical Research Coordinator
Erica Petrone
Digital Content Coordinator
Veronica Rodriguez
Outreach Coordinator
Sydney Drumheller
Clinical Research Coordinator
Heather Symecko
Associate Director of Clinical Research
Catherine Wolfe
Clinical Research Coordinator
Laura Rostock
Executive Director of Development
Carolyn Brown
Sr. Associate Director of Development & Community Engagement
Dorothy Mejia-Smith
Sr. Associate Director of Development & Communications
Karleigh Rose Pettit
Director of Development
Brian Schwabenland


Assistant Director of Development
Basser Center at 10: Progress for Generations to Come
We are proud to share with you Basser Center at 10: Progress for Generations to Come. Learn about our efforts to develop new, more targeted therapies to combat BRCA-related cancers, increase awareness of BRCA and break down barriers to genetic testing, and get a glimpse into the future of our work and the new frontier of cancer interception.