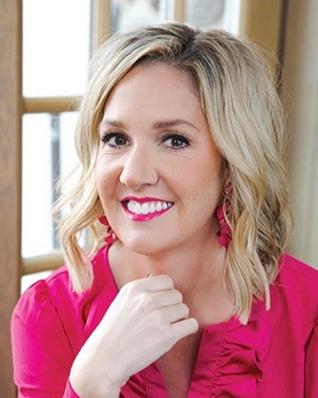 "I'm not a cancer survivor, but I am a BRCA1 carrier – and am trying to bring more awareness, research and connection to that space."
Amy Gallagher lives in a suburb of Minneapolis. It's where she and her husband work, where her children attend school – and where, in March of 2017, Amy learned that she carries a BRCA1 gene mutation.
"I got the news on my daughter's third birthday," she remembers.
Amy herself was just 32 years old.

"My entire career has been in non-profit oncology event planning and fundraising, so I've had a lot of interaction with individuals experiencing cancer. Many of them carry BRCA1 mutations, so I thought I was prepared to hear the results. But it really is different when it's your own diagnosis," she says. 
Anxiety set in. What would this mean for Amy's health, her future, her husband, her two children?
The Road to Testing
Many relatives on Amy's dad's side of the family, including her great-aunt and great-grandmother, had lost their lives to breast or ovarian cancer. Her grandfather and other male relatives had died of various cancers, as well.
"When I shared my family cancer history at doctors' appointments, my providers usually suggested we discuss it further, or that I consider genetic testing. But I sort of brushed them off because I was so young."
Then, in 2016, Amy learned that another aunt – her dad's sister – and a first cousin both tested positive for a BRCA1 gene mutation. Suddenly, the writing was on the wall: Relatives who had had cancer had likely carried a BRCA1 gene mutation – and they might have passed it on to Amy's dad, who then might have passed it on to Amy. Both men and women can inherit these gene mutations and pass them on--there is a fifty percent chance a BRCA1 (or BRCA2) carrier's children, male or female, will inherit the mutation.
Amy decided to undergo genetic testing. In March 2017, she got the results.
A Preventative Plan
Amy decided before receiving results that if she tested positive for a BRCA1 gene mutation, she'd undergo elective preventative surgery in hopes of reducing her chances of developing cancer. So in May 2017, two months after the news, she had a preventative total hysterectomy with a salpingo-oophorectomy  – removal of the uterus, ovaries, and fallopian tubes – in her home state of Minnesota.  
"Even though I worry all of the time that I might have unknowingly passed this mutation onto my son and daughter, I am thankful that I'd already had children by the time I underwent genetic testing. It made the decision to undergo a hysterectomy an easier one. I didn't have to face tough decisions about family planning, like so many women do," Amy says.

The following month, in June 2017, Amy underwent a bilateral prophylactic mastectomy – the removal of both breasts, which reduces chances of breast cancer by at least 90 percent.[1]
The surgeries came with complications, including a hematoma and other issues requiring added procedures. All total, including breast reconstruction, Amy has undergone seven surgeries since 2017. While not an easy road – physically, mentally, or emotionally – she recognizes the larger value of these preventative measures.
"I know women who tested positive for BRCA mutations, who decided against preventative surgeries, and who now have cancer. So while it's been tough and doesn't offer guarantees, I'm thankful to be living cancer-free five years after learning I carry a BRCA1 mutation."
A New Calling
After recovering, Amy returned to work at Pinky Swear, a non-profit focused on pediatric cancers. Off the clock, she began learning more about hereditary cancer research and related funding, doing her part to bring increased awareness and resources to the Minneapolis area.

Then, in 2021, Amy saw a job posting she couldn't ignore: an opening for the executive director role at the Firefly Sisterhood. Founded in 2014, the Firefly Sisterhood is a Minneapolis-based non-profit that fosters one-on-one connections between women impacted by breast cancer. Stage 4 thrivers (women with advanced cancer living quality lives) and women in remission are matched with women undergoing active treatment, whether they're newly diagnosed, also at stage 4, or experiencing a reoccurrence. Amy had done some volunteer work for Firefly Sisterhood already. She applied for the job – and, in 2021, stepped into the executive director role. Today she oversees outreach and fundraising.
"At Firefly Sisterhood, we are very intentional about the matches we make," she says. "Say, for example, we're working with a woman who has young children and who is worried about juggling parenthood with chemotherapy. Our program manager will go through our database to find a peer mentor who experienced similar circumstances during treatment. Peer mentors are trained to offer non-medical advice (tips, advice, insights into their own experiences) when asked, or to just provide a listening ear."
Last year, the Firefly Sisterhood held 24 outreach and fundraising events and work with women in 26 states. Amy's own health profile as a BRCA1 carrier is helping her expand the program to include resources for women like her who are taking preventative measures to reduce their chances of developing BRCA-related cancers.
The Basser Center Connection
Not long after learning about her BRCA1 mutation, Amy came across the Basser Center for BRCA on Instagram. She reached out and became part of the Basser Young Leadership Council (YLC) – a dynamic group of young adults, all affected by a BRCA gene mutation. Together they lend support, engage with BRCA-related research, and host Basser Center YLC events and initiatives. Emails and articles from the Basser Center help keep Amy on the forefront of activity and advances in hereditary cancers. Sometimes there are even opportunities to connect BRCA-affected women Amy meets at Firefly Sisterhood with the Basser Center as a resource.
"Basser Center is a huge source of knowledge, and does a great job of encouraging men and women alike to 'know our genes.'"
Looking Ahead
More members of Amy's family have undergone genetic testing since hearing her results. As it turns out, Amy's brother, father, another aunt, and most of her paternal cousins – both male and female – also carry a BRCA1 gene mutation.
"A lot of people are surprised to hear that I inherited the mutation from my dad, because BRCA1 is largely associated with female cancers," she says. "There's a lot of satisfaction in helping to set the record straight."
Amy's daughter and son, now eight and fourteen years old, have not yet undergone testing to determine whether they inherited a BRCA1 mutation. Doctors generally advise against genetic testing until young adults are at least 25 years old, the point at which young women with BRCA1 mutations are advised to start undergoing routine mammograms and other regular preventative screenings.
"Naturally I worry about whether my children have the mutation, especially my daughter," Amy says. "It's a heavy burden, and one I hope they won't have to carry. But I also hold out hope for breakthroughs to occur in research unfolding at places like the Basser Center."
Get BRCA Answers
Think you or someone you love might carry a BRCA mutation? Genetic counseling and testing is recommended for individuals whose family and personal health histories point to an increased chance of a cancer gene mutation. To learn if you may be a candidate for genetic testing, take the BRCA risk factor quiz.
---
[1] https://www.komen.org/breast-cancer/risk-factor/topics/options-for-women-at-high-risk/preventative-surgery/#:~:text=Bilateral%20prophylactic%20mastectomy%20is%20the,cancer%20%5B239%2D240%5D.