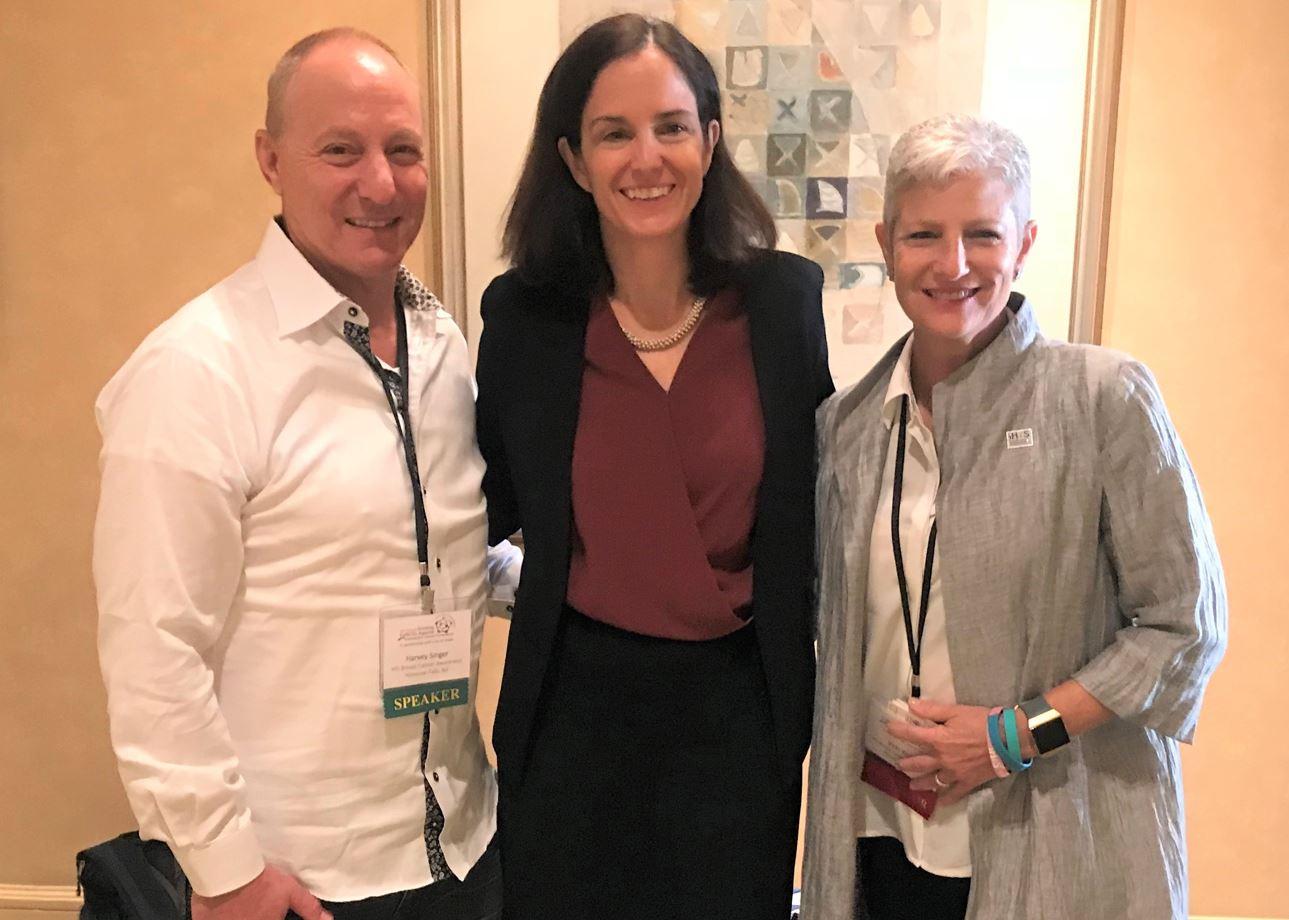 This blog was written by Harvey I. Singer and Vicki Singer Wolf, siblings and Co-founders of HIS Breast Cancer Awareness nonprofit organization.
It's never easy to receive a cancer diagnosis but imagine being a man and hearing you have breast cancer. Most people do not even know that men can be diagnosed with this "pink" disease. In addition, while many people have heard of the BRCA genes, understanding a genetic mutation can be passed down to, or carried by a male, is also not the norm. Unfortunately, we became very educated very quickly!  It took a great deal of research.  There was very little information available for male breast cancer. As a brother (Harvey) and sister (Vicki) who are both breast cancer survivors and both carry a BRCA2 genetic mutation, we vowed to help educate and support others.
Here's our story….
In October of 1995 at the age of 37, Vicki was diagnosed with Stage 0 breast cancer, called Ductal carcinoma in situ (DCIS). This was one month after her mother was diagnosed with breast cancer. Vicki had a second diagnosis in 1997. After lumpectomies and continuing with surveillance, Vicki was diagnosed with Invasive ductal carcinoma (IDC) at the age of 48 for a third breast cancer diagnosis. After lumpectomy, 6 weeks of radiation and beginning tamoxifen treatment, Vicki learned about genetic testing through the Basser Center at University of Pennsylvania.  She then discovered she carried a BRCA2 genetic mutation. A full hysterectomy (removal of the ovaries, tubes and uterus) was performed. It was then that she discussed the findings of this mutation with her family, which included her three young sons and two older brothers. 
In October 2008 her brother Harvey noticed pain and a small lump around his nipple. Although he hadn't completed genetic testing yet, thankfully he was aware of the family history and didn't hesitate very long before having it checked. At 54 years of age Harvey heard the words, "Sir, You Have Breast Cancer". Shortly afterwards, the diagnosis of breast cancer was confirmed. A total mastectomy of his left breast was performed. This was followed by chemotherapy treatment and he began tamoxifen. Both Harvey and Vicki's breast cancer were hormonally driven (estrogen receptor positive) and Her2 negative. After undergoing genetic testing, Harvey learned he also is a carrier of a BRCA2 gene mutation. 
What Harvey and Vicki soon learned after this diagnosis was there was very little, if any information, regarding male breast cancer. Although Vicki could help guide Harvey through some of the pre-testing and diagnosis, the information for treating a man vs a woman, along with any support, was non-existent. Having five sons between them and wanting change for men, they decided to do something to alter the narrative and bring the topic of male breast cancer to the forefront.
HIS Breast Cancer Awareness, a fully accredited 501c3 nonprofit organization was founded in 2009. Male Breast Cancer is virtually an unknown entity all over the world, which is fascinating considering the amount of coverage, effort for a cure and visibility that female breast cancer receives daily.  
HIS Breast Cancer Awareness was founded in honor of all men who are at risk of, diagnosed with, or for those who have died from this disease.
The organization offers insight, education and support on Male Breast and Hereditary Cancers.
The mission is to increase awareness and subsequently assist the early detection, for all men especially those who are at high risk.  Due to genetics and other risk factors, gaining access to regular screenings is critical.
Their goals include gaining access for men to be included in "all studies" and be included in "all trials" ongoing for breast cancer.  There are obvious differences between Male and Female breast cancers, especially those hormonally driven. Despite the obvious differences, most male breast cancers are still treated the same way as female breast cancers.
Their informative web site, hisbreastcancer.org was created to assist men and women, health care professionals, and anyone who is interested in learning about the risk, treatment(s), emotional aspect and stigmatism of men dealing with this disease. Genetic mutations and hereditary cancer risks are very specific to their mission. 
Since the inception of HIS Breast Cancer Awareness, Vicki was diagnosed a fourth time with Invasive breast cancer, completed a double mastectomy, chemotherapy and is currently on Arimidex and under the care of Dr. Susan Domchek of University of Pennsylvania's Abramson Cancer Center.
Eighteen months post his mastectomy, Harvey was diagnosed with early onset prostate cancer, probably caused by being a carrier of a BRCA2 mutation. Today, they are both in good health, making the best possible choices in their diet, exercise and lifestyle while continuing to advocate, educate and support all the men.
Taking next steps:
Read more of their story and learn more about Male Breast Cancer and Hereditary Cancers by visiting their website. View their latest interview on Good Morning America here. 
HIS Breast Cancer Awareness and the Basser Center continue to work together to help save lives.
There is a common misconception that BRCA1 and BRCA2 mutations only impact women because of their association with increased breast cancer risk. Everyone has BRCA1 and BRCA2 genes, and some people are born with a mutation in one of these genes.  Learn more about BRCA in Men here and take the BRCA risk factor quiz and learn for more information on genetic and counseling and testing.