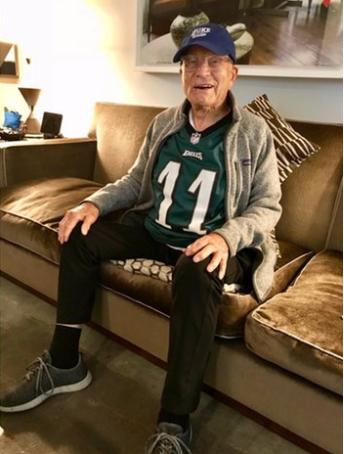 Phil Basser, patriarch of the Basser family, has recently made it into the news for his legendary love of the Philadelphia Eagles. When another 99-year old football fan, Minnesota Vikings fanatic Millie Wall, got some attention for her lifelong fandom, Phil's grandkids stepped up to the plate. As the PhillyVoice wrote, "To say Basser is a lifelong Birds fan is technically incorrect – not because it's hyperbole but because he is older than the franchise, born 15 years before the Eagles played their inaugural NFL season in 1933."
Watch the full story from Fox News:
As an early 100th birthday present, Phil's family is taking him to the upcoming NFC Championship game in Philadelphia, where everyone hopes he will bring some luck and help his favorite team FLY, EAGLES, FLY! Read more on Fox News and the PhillyVoice and watch the Good Morning Football video.
In other exciting news, the U.S. Food and Drug Administration recently approved the PARP inhibitor olaparib as the first treatment for advanced breast cancer caused by mutations in BRCA genes, in an important step in the fight against inherited cancers. This is an extension of the approval of olaparib from 2014, when it was approved to treat BRCA-related ovarian cancer. 
Basser Executive Director Susan Domchek co-led the OlympiAD trials that led to FDA approval of olaparib for the treatment of breast cancer. "Fifty percent of the BRCA patients in this trial were triple negative," she said. "So all of a sudden, we have a new option for a subset of triple negative patients." Trials are now underway to see if Lynparza® (olaparib) can prevent recurrence if it is given to patients after initial surgery and chemotherapy, and to see its results in combination with other targeted therapies.