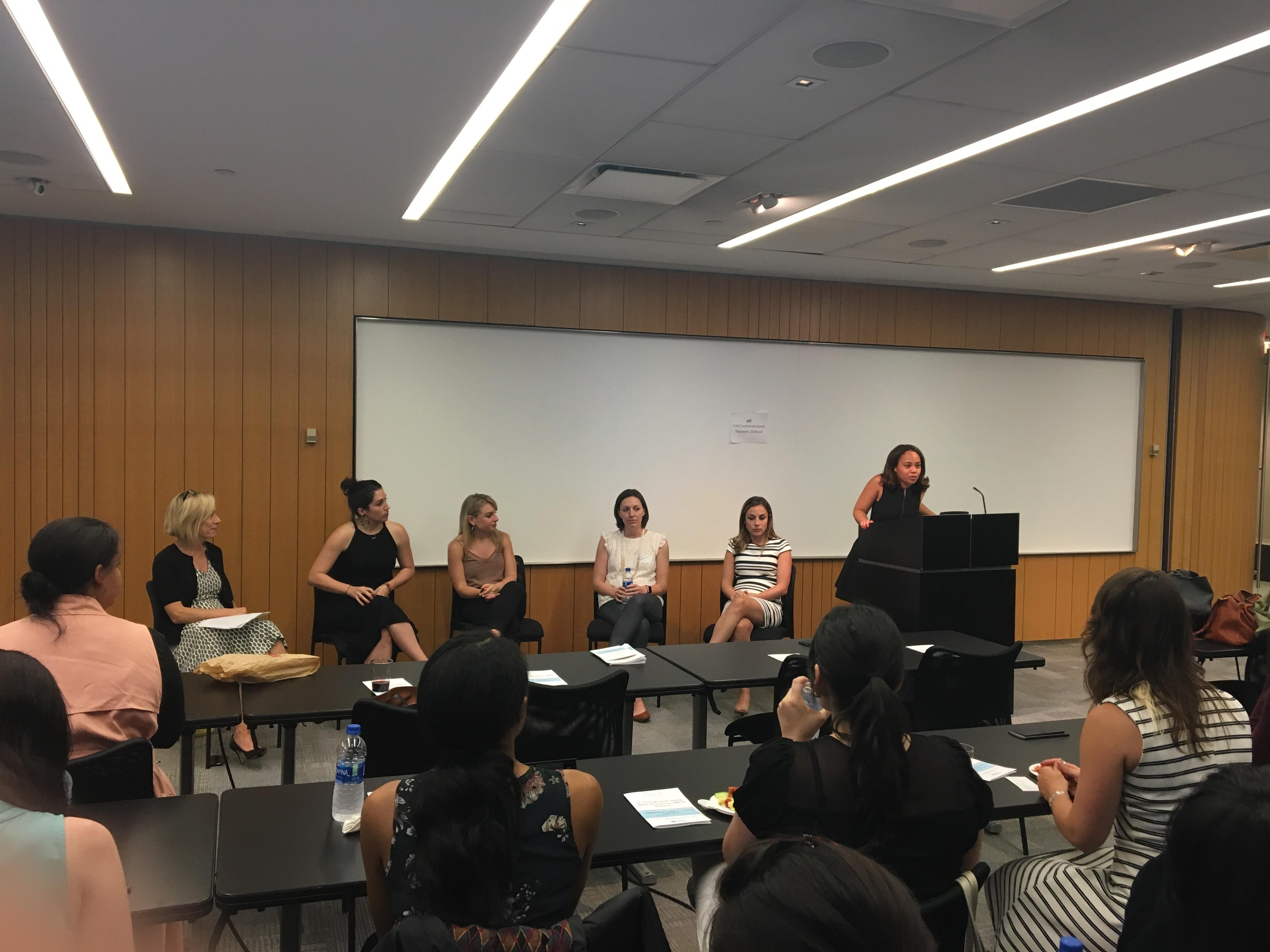 On June 27, 2018, at Foley Hoag LLC in New York City, the Basser Center for BRCA held a panel discussion on the ins and outs of dating with a BRCA mutation. Speakers included Danielle McKenna, Genetic Counselor at the Basser Center, Lindsay Hoskins, a Couples and Family therapist in Washington, D.C., and two of our Young Leadership Council members: Suzanne Zuppello, a freelance writer and BRCA mutation carrier, and Lauren Profis, a marketing professional and BRCA mutation carrier. The panel was moderated by DeAnn Smith of Foley Hoag, a U.S. patent attorney. The panel members spoke about their experiences with dating either from the perspective of medical professionals or as BRCA mutation carriers — a deeply personal topic that we feel needs more discussion.
This is the last of three articles outlining the panel discussion. The responses below reflect some of the frustrations younger individuals have with finding information about living with a BRCA mutation and we're grateful they were willing to candidly share their experiences. Thanks to Young Leadership Council member Sarah Roth for providing detailed notes from the event.
Should people try to be settled before genetic counseling?
Danielle McKenna: For a long time, women under 25 would just come in for information sessions. Sometimes, parents coerce kids in one way or another [so there is no need to wait to come in for counseling].
Counseling a partner of someone with BRCA
Lindsay Hoskins: Key issues are finding the right information; providing sufficient support; guiding through family planning; and talking about sex.
What are considerations for a BRCA-carrier who's a man?
Lindsay Hoskins: [Sometimes patients wonder,] will this discourage someone from partnering with me?
On siblings
Suzanne Zuppello: My brother [hasn't received testing] and he's very weird about it. It makes me angry that [my brother and other relatives] don't want that knowledge.
Lauren Profis: My sister went [for testing] six months before me. I went without her, and I took a pause [from talking about it with her]. There was something about it that my sister just didn't grasp. [I wanted to say to her,] "I'm going through this, and it's because of our mother, and you just don't get it." Sister relationships – female family relationships [in general] – are always going to be complicated and layered, and this is no exception.
Danielle McKenna: It's hard for "true negatives" to let go of their family history as part of their identity.
How often do you think about breast cancer, after mastectomy surgery?
Suzanne Zuppello: It hardly crosses my mind. Ovarian, though, I think about all the time. [I wonder things like] will I be insured to get surgery? I went through two [really active] years, not letting myself process things. I've set aside 2018 to hit pause, and take a break.
Lindsay Hoskins: [Instead of worrying all the time, I tell my clients that] it can be helpful to set aside time – Thursday nights [for example] – to Google things, and let yourself feel anxiety.
The next Basser Young Leadership Council event will be on October 3rd, 2018, in New York: An Evening of Storytelling. Register for tickets now.
Opinions of the Basser Young Leadership Council members are their own personal opinions and do not necessarily represent those of the Basser Center.