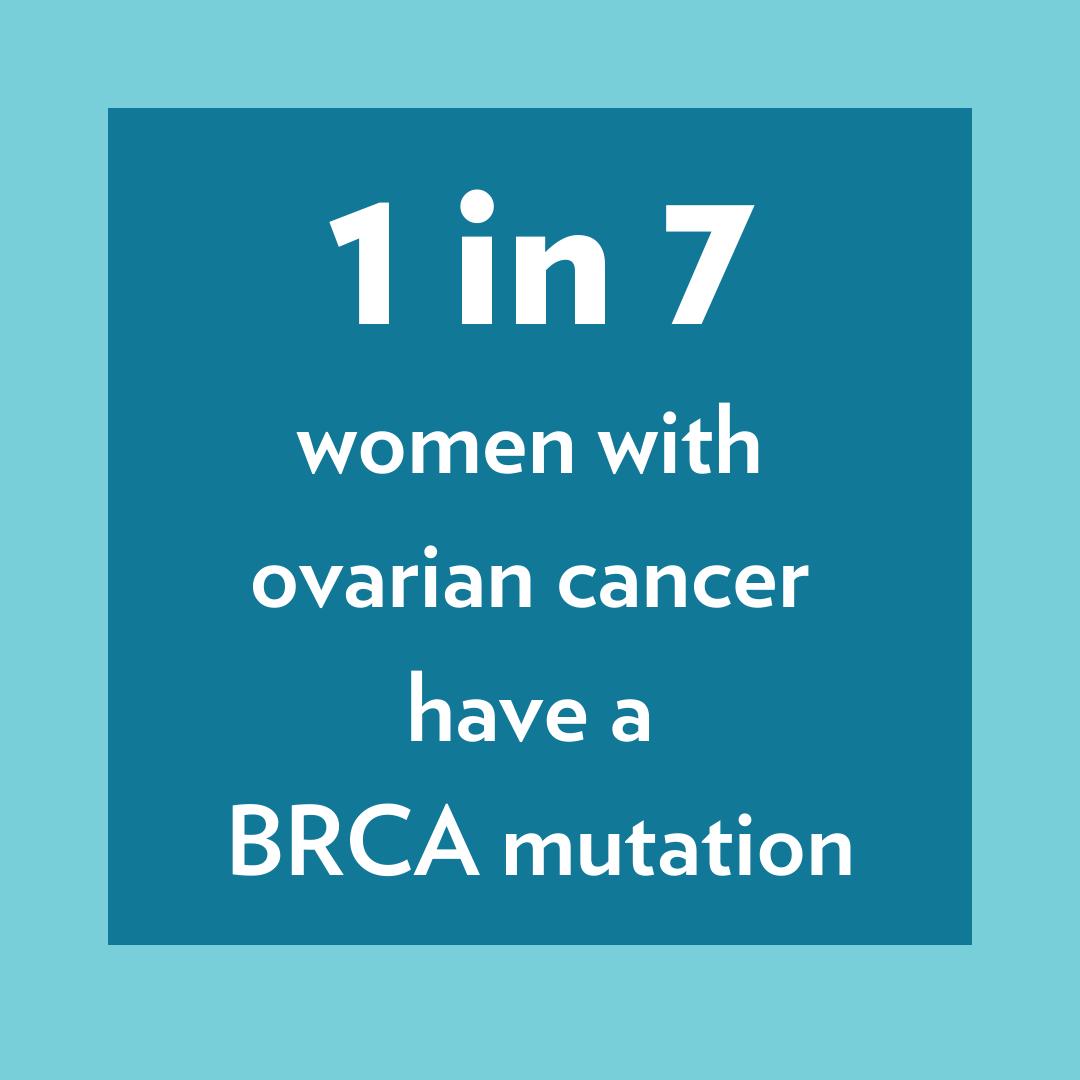 Improving early detection and treatment of ovarian cancer is an important area of focus for the Basser Center for BRCA. Women with BRCA1 mutations have an increased lifetime risk of ovarian cancer of up to 50%, while BRCA2 mutation carriers have an increased risk of 20%. An important risk factor for ovarian cancer is family history; cancer that results from inherited genetic mutations like BRCA1 and BRCA2. For example, one in seven women with ovarian cancer have a BRCA mutation. 
And while ovarian cancer is not as common as other women's cancers, a lack of early detection or prevention strategies is a major cause of poor outcomes for patients, especially those at high-risk (such as BRCA mutation carriers). The Basser Center is dedicated to providing women with better screening, prevention, and treatment options, which has the potential to save countless lives. 
The Center's leading scientists and researchers, including Basser Center Director of Gynecologic Cancer Research, Ronny Drapkin, MD, PhD, have long been involved in pioneering ovarian cancer research. In 2006, Dr. Drapkin and colleagues discovered that the majority of high-grade serous ovarian cancers arise in the fallopian tubes. In 2010, research led by Basser Center Executive Director Susan M. Domchek, MD, added to the strong evidence that removal of the ovaries improved overall survival in BRCA mutation carriers. Several PARP inhibitor therapies were approved for ovarian cancer treatment based on research led by the Basser Center, including olaparib in 2014, rucaparib in 2015, and niraparib in 2017. Additionally, based on this research, olaparib was approved as first line maintenance for BRCA-related ovarian cancer in 2019. 
This research is ongoing. For example, Ronny Drapkin, MD, PhD, was part of a recent study showing that microRNA miR181a could help detect and treat ovarian cancer. 
Current studies include:

Combinations for Treatment of BRCA1/2 Germline Carriers

Fiona Simpkins, MD, and Eric Brown, PhD, are exploring preliminary findings that distinct combinations of three inhibitors—PARPi, ATRi, and WEE1i—differ in treatment effectiveness depending on BRCA status in high-grade serous ovarian cancers. The trial involves taking actual patient tumors and growing them in mice (known as patient derived xenograft, or PDX) to study how these drug combinations work. At the same time, they're diving deep into how genes and proteins function and interact in order to understand the genetics behind these tumors, with the ultimate goal of providing more effective treatment options for ovarian cancer.

Exploring the Curative Potential of CAR-T Cells in Ovarian Cancer

Dan Powell, PhD, and his team launched a phase I clinical trial to study CAR-T cell therapy that targets a protein expressed in most ovarian cancers. This study seeks to offer more successful, less toxic cancer treatments to patients. Chimeric antigen receptor (or CAR-T) cell therapy presents the opportunity to treat cancer with a patient's own immune system. Based on preclinical work conducted using mouse models, a protein called alpha folate receptor (aFR), which is expressed in 90% of ovarian cancers, has been identified as a highly promising target for CAR-T cell therapy. The study brings together a team of experienced clinical investigators to develop, implement, and test next generation CAR-T cell strategies in ovarian cancer, particularly focused on women with recurrent high-grade serous ovarian cancer. The initial results of this study are incredibly promising and represent an important step in our goal to develop new clinical strategies for both BRCA-related ovarian cancer and ovarian cancer at large.

Improving Surgical Prevention Options for Ovarian Cancer

Sarah Kim, MD, Ashley Haggerty, MD, MSCE, and Ronny Drapkin, MD, PhD, lead the Women Choosing Surgical Prevention (WISP) trial, which seeks to investigate whether removal of fallopian tubes alone can safely improve sexual function and menopausal symptoms compared to standard risk-reducing removal of both the ovaries and fallopian tubes. Phase I of this study has shown that salpingectomy only, or removal of the fallopian tubes, is a safe procedure and adds no additional complication than if the fallopian tubes and ovaries were removed together. It also avoids early menopause. Dr. Drapkin says, "The WISP study wasn't powered to tell us if salpingectomy is equally effective for risk reduction, but it told us the procedure is safe and doable. On the heels of that study, we've begun WISP 2, a multinational study involving thousands of women to ultimately answer the question: does taking out the fallopian tubes offer you the same degree of risk reduction as taking out the ovaries? Our goal is to give women better options."
As we look towards the future, the focus is on screening and early detection of ovarian cancer such as by a pap smear-like test for the fallopian tube; potential fallopian tube removal as a preventative surgery option; and further use of PARP inhibitors in ovarian cancer treatment and other options such as CAR-T cell therapy. 
To learn more about ovarian cancer risk, symptoms, and treatment options explore our resources on genetic counseling and testing, managing cancer risk, and treating BRCA-related cancers like ovarian cancer. Watch and share this webinar on hereditary ovarian cancer presented by Ronny Drapkin, MD, PhD. For more resources, visit OncoLink, Penn Ovarian Cancer Research Center, and our list of other ovarian cancer resources.