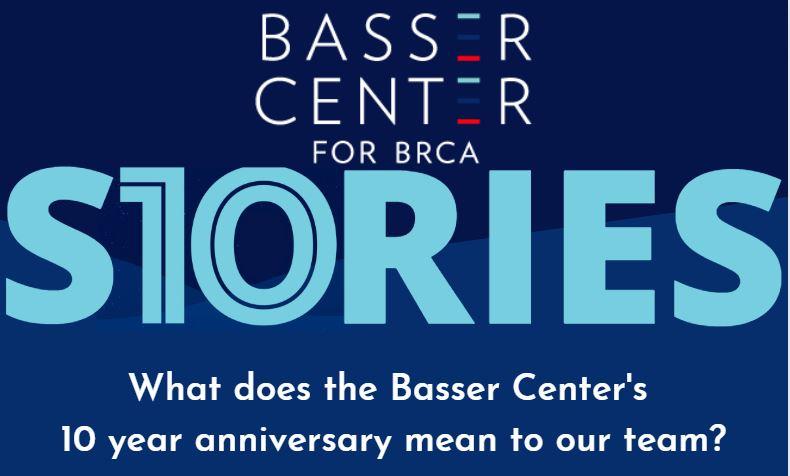 This year we celebrate the 10-year anniversary of the Basser Center for BRCA and we have a lot to be excited about! Our mission to continue to be a leader in the discovery and prevention for BRCA-mutation related cancer research continues as we look towards the future of the Basser Center. Our goal is to keep pushing boundaries and disrupt the timeline of cancer treatment - and we are thrilled to focus on this as we establish the new Basser Cancer Interception Institute. We strive to be a beacon of hope for individuals and families with BRCA1/2 gene mutations.
As world leaders in BRCA-related research, the Basser Center has long since paved the way for more informed decision-making around preventative surgeries and screenings. While we commemorate our 10th anniversary, we continue to spread awareness and build a stronger community of supporters, advocates and collaborators. 
Of course, we would not have been able to get to where we are today without the wonderful people who make the Basser Center all that it is now. Each week, we will be featuring another spectacular member of the Basser team and adding their story about what the 10-year anniversary means to them. Follow along here to read about our team!
1. Susan Domchek, MD - Executive Director of the Basser Center for BRCA
Dr. Susan Domchek has been at Penn Medicine since 2001 and has been with the Basser Center since the inception in 2012. Her favorite part about working with the Basser Center is the intense commitment from everyone working with the Center to move the needle and help improve care for individuals with BRCA1/2 mutations.
When asked about her most memorable experience from her time here thus far, Dr. Domchek said, "The first approval of PARP inhibitors at the end of 2014 for recurrent ovarian cancer and the recent approval of olaparib for the adjuvant treatment of high risk BRCA-related breast cancer is so rewarding." She continues by stating, "It has taken so much to get to this point, and we still have much work to do, but these drugs are a major advance for BRCA carriers. To think that when these genes were cloned in the mid 90's, there was no understanding of what their normal function was. Now having multiple targeted medications is a great example of the power of bench to bedside research."
To her, the 10-year anniversary for the Basser Center means hope and determination. There is still so much to do. She is excited for the future of the Center: "We will find non-surgical options for individuals to address their risk of cancer. We are committed to early detection and cancer interception."
Read more about Dr. Domchek in the latest TIME article, The New York Times article and a Fox29 video interview.
2. Amy Kleger - Associate Director of Marketing
Amy Kleger is the Associate Director of Marketing for the Abramson Cancer Center. She's been involved with Basser Center marketing initiatives for 9 years. What she loves most about working with the Basser Center are the people involved. She says, "They are smart, focused, compassionate and passionate. Not a day goes by where I am not inspired by the team." Her most memorable experience is two-fold: attending her first Basser Jean Bash and launching an impressive marketing campaign to spread awareness about Basser and BRCA gene mutations. 
Our marketing maven continues, "Celebrating 10 years of the Basser Center means more people can access high-quality information on what a BRCA gene mutation is, what it may mean for them and their families. It's the family aspect that means so much. The future of the Basser Center is bright!" 
 
3. Jacquelyn Powers, MS, LCGC - Genetic Counselor, Basser Research Center for BRCA
Jackie Powers is one of our amazing genetic counselors in the Basser Center who has not only been with us since the beginning, but has also worked at Penn Medicine since June 2008. Her work as a clinical genetic counselor has led her to a more administrative role in June 2021: Associate Director of Genetic Counseling. Jackie loves the individuals that work at the Basser Center. She says, "Our executive director, investigators, genetic counselors and all the staff collaborate tremendously and all believe in Basser's mission. They work tirelessly to make strides to improve the lives of individuals and families impacted by BRCA1 and BRCA2 genetic mutations." In many ways, Jackie has "grown up" with Susan Domchek. Her time spent working with Dr. Domchek has left her with her most memorable experiences at the Basser Center, and she is grateful for that!   
When asked what celebrating Basser's 10-year anniversary means to her, Jackie states that it's a reminder of all the work that went into developing and growing the center to what it is today. Our anniversary is also a reminder of all the work that remains, which serves as a beacon of hope for those whose lives are affected by BRCA-related cancers.
       
What excites Jackie about the future of the Basser Center? Momentum. "Each year surpasses the last. There has been immense intentionality and thought throughout the past ten years. It's exciting to know that projects being actively pursued and recruited for may just yield promising findings that translate into actionable improvements in the years to come."
 
4. Beth Stearman, MPH - Administrative Director, Basser Center for BRCA
Beth Stearman, MPH is our wonderful Administrative Director who has been here since the Basser Center's inception in 2012.
First and foremost, Beth loves our dedicated staff. She says, "We have an amazingly collaborative team in the Basser Center, from our research coordinators and clinical support staff through all of our genetic counselors and supervisors across the department. People are very focused on our mission and I feel we have created an environment for all ideas to be shared openly and be respectfully received."
Beth enjoys the diversity of tasks in her role and believes her start on the "ground floor" of the Center to be an honor and a pleasure. She is grateful to be a part of moving Basser forward over the past 10 years. Working with our Leadership Committee and Internal and External Advisory Boards has given Beth the opportunity to widen her view of our work in a strategic way and to combine her program management skills with the science of the Basser Center in a rewarding way.
When asked about her favorite Basser experience, Beth responds, "Since I have my hands in so many aspects of the Center, there have been many 'favorites'. However, one tangible example is being able to see how our annual scientific symposium has evolved into a world-class conference. What started out as something we had no idea how to do, to growing into the present day hybrid symposium has been very gratifying. It is a huge undertaking with a large team of people involved, and I've been exposed to people and processes that have expanded my professional skills." Beth always looks forward to the moment when the symposium finally comes around and she is able to sit down and listen to our Global Prize winner give the keynote lecture. It's a highlight of her year! Learn more about our Global Prize winner and the annual Scientific Symposium.
Beth says she has had the unique experience of having been here since the beginning of the center to have witnessed so much growth and change. Her "behind the scenes" work gives her the opportunity to see how things work and participate in improving many of our recurring processes and initiatives. She also enjoys watching younger colleagues advance their careers and is lucky to be a part of their success.

"Every time I write a progress report for our donors, I have a chance to step back and see how much we have accomplished in 10 years I feel so proud to have a part in moving our important mission forward! It is exciting to work in a field where advances happen quickly and in our case, the opportunity to provide better options for people with BRCA mutations. The new Basser Cancer Interception Institute provides an incredible opportunity for funding research and other approaches in support of high risk patients and families."
 
5. Katharine L. Nathanson, MD - Director of Genetics at the Basser Research Center and Pearl Basser Professor of BRCA-Related Research
Dr. Nathanson has been a crucial Basser team member since the start of the Center. When asked what her favorite thing about being a part of the Basser Center for the past 10 years is, she responds, "Oh, that's easy - the people!" To her, the entire Basser team is committed to improving care for individuals with pathogenic variants in BRCA1/2. For example, Basser hosts a series of internal clincal conferences to discuss a wide range of different BRCA1/2-related topics to make sure the latest and greatest information is being discussed. Our team is devoted to collaborating.
When Dr. Nathanson looks back over the last 10 years, she sees the huge strides that we have made in all aspects of care for patients with BRCA1/2 mutations and it is obvious that she is a part of something special. 
Dr. Nathanson knows that the future is bright at Basser. "I am looking forward to seeing what happens over the next 10 years, particularly in the area of cancer interception." Check out the article from Forbes to learn more about our newest gift that is dedicated to the study and treatment of hereditary cancers and to help establish the Basser Cancer Interception Institute at the Basser Center. Read more about some of Dr. Nathanson's latest work here and here.
 
6. Robert H. Vonderheide, MD, DPhil - Director of the Abramson Cancer Center
One of the famous faces around the Abramson Cancer Center is Robert H. Vonderheide, MD, DPhil. Not only is he the Director of the Abramson Cancer Center, but he also directs a Team Science Project for the Basser Center on the immunoprevention of cancer and is an ex officio member of the Basser Center Internal Advisory Board. His impressive work with the Basser Center has been dedicated to the innovation to solve important clinical challenges ever since he started with the Center at its inception. When asked about what his most memorable time at the Basser Center has been, he looks toward the future in excitement, "The most memorable time will soon be when the first healthy person who carries a mutation in BRCA1 or BRCA2 is vaccinated to intercept cancer."
To Dr. Vonderheide, the 10-year anniversary is a point of pride. He says, "The idea of the Basser Center to comprehensively and specifically address the challenges faced by people living with BRCA1 or BRCA2 mutations was just that 10 years ago: an idea. Now it is reality and one with a tremendous future."
He is excited to continue to capture all that we now know about cancer and the immune system and use that to intercept and destroy cancer at the earliest stages in people who carry germline BRCA1/2 mutations. Here's to the next 10 years!
7. Ronny Drapkin, MD, PhD - Director of Gynecologic Cancer Research, Basser Center for BRCA
You might recognize Dr. Ronny Drapkin from his inspiring and informative posts shared on our @basserbrca Twitter account. Since he joined the Basser Center in 2015, he's brought so more excitement to our great team! It's nearly impossible to choose only one thing he loves about the Basser Center - but to list a few, some of Dr. Drapkin's favorite parts about being on this team are Basser's mission, the people, the resources, and the impact that the Center has on patients and their families.
The 10-year anniversary gives Dr. Drapkin the opportunity to look back at everything we have accomplished as a team and a chance to face even more opportunities as we look towards the future. He is grateful to have been a part of the past Basser Jean Bash events each year. He says, "The annual Jean Bash is an amazing event! It's great to see so many people behind the mission of the Center."
He feels that the Basser Center is in the unique position to be able to have all the resources needed to explore the best and most innovative ideas. "This is truly a gift and I look forward to the next few years as we 'think outside the box' to bring patients who harbor BRCA mutations better options and treatments."
Read more about Dr. Drapkin's latest work here.
8. Roger Greenberg, MD, PhD - Director of Basic Science, Basser Center for BRCA
Since 2012, Dr. Greenberg has been a part of the impressive Basser Center team. One thing Dr. Greenberg loves most about working at the Basser Center is working with his wonderful colleagues on the important mission and objective of improving care for BRCA1/2 gene mutation carriers. In fact, attending his first External Advisory Board meeting was quite the memorable experience for him because he was able to see the Basser Center's incredible progress since the start!
He says, "I am gratified to know how much we have achieved over the last 10 years and I am optimistic that we'll accomplish much more in the coming 10 years." Dr. Greenberg is proud that his group has discovered an exciting new drug target and laid the groundwork to understand how immune responses can be directed against BRCA mutant cancers. "I am also very pleased that the former members of my group that published this work now have their own independent labs at other academic institutions."
He feels lucky that the Basser leadership team has attracted so many talented Penn Medicine scientists to the BRCA field. "We have built up BRCA-related research at Penn Medicine by attracting many newcomers to the field that have expertise that was not previously represented in the field. I am excited to see how these different approaches make an impact on BRCA research."
Stay tuned to hear from our other team members!