Alexa's Story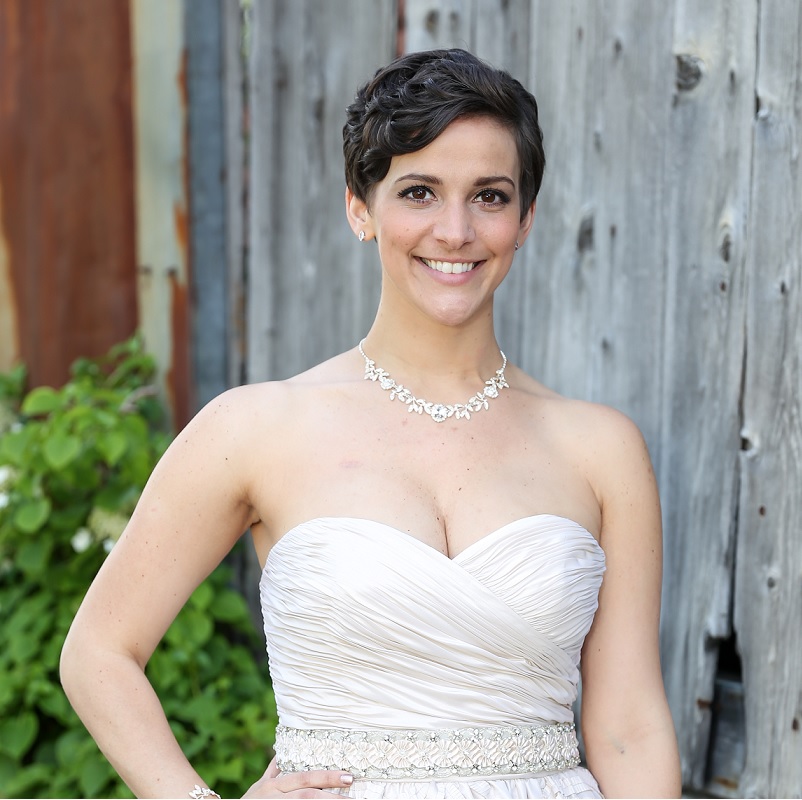 Alexa shared her story of learning about her BRCA mutation after being diagnosed with triple negative breast cancer at age 27 and how she found teachable moments throughout her journey. Alexa's memory lives on through her foundation and the many students she taught in Illinois.
Read more
""Once the shock wore off for some of my family members, there was a mix of sadness, guilt, and even some denial. I truly hope my family will become empowered with the knowledge they have and use it to their benefit—that would be the silver lining in all of this."
With an electric smile and jubilant attitude, Alexa exudes self-confidence and optimism. Walking down the street, she resembles any other young woman her age. Except for the close-cropped hairstyle, there is virtually no hint she has metastatic breast cancer. Alexa's cancer journey began while performing a self- exam in January 2014. She was just 27 years old when she found a lump in her left breast.
"I scheduled an appointment with my gynecologist, who attempted a fine needle aspiration, but there was no fluid." Alexa was sent for an ultrasound, which confirmed multiple solid masses in her left breast. "My gynecologist referred me to a breast specialist, who reviewed my ultrasound and asked about my family health history. At the time, I was unaware of any cases of breast cancer but did share that my paternal side of the family was of Ashkenazi Jewish descent, which I had previously learned was linked to an increased risk of having a BRCA mutation."
The specialist recommended she follow up with him in four to six months. "Despite his advice, my instincts told me that I needed to know what was going on, so I requested he perform a core needle biopsy. At the very least, I was hoping for peace of mind," she sighs. On February 4th, the surgeon called to tell Alexa she had invasive ductal carcinoma, suspected to be stage I or II. She learned it was triple negative a few days following diagnosis. "After multiple scans, it was confirmed that there were no signs of cancer anywhere else in my body but in my left breast."
When the startling news of Alexa's breast cancer diagnosis reached her family, her paternal grandmother revealed there were at least seven cases of breast cancer in her family, including aunts, uncles, and cousins. "Grandma, however, had never been diagnosed with breast cancer nor had anyone since her generation. Given this newly discovered family history, my specialist recommended I pursue genetic counseling and testing. I had the blood test, and a few weeks later, my results came back positive for the BRCA1 mutation." Alexa's father also tested positive for the same BRCA1 mutation. Alexa also recently learned that it was not her paternal grandmother but her paternal grandfather who had passed the mutation to her father. Considering her grandmother's family history, this news was very surprising, but her grandfather had battled colon cancer in his early seventies. Her grandfather passed away just a few weeks ago at the age of 80.
As the oldest of six children (ages 19-26), Alexa was especially concerned for her siblings' well being. "I promptly communicated my test results with my immediate and extended family either in person or by phone. I felt it was important for my siblings to consider genetic testing sooner than later. It is my understanding that because I was only 27 at diagnosis, there is a risk of early diagnoses for family members who test positive." When her dad's results came back positive, they explained the risks to his family members as well and encouraged them to become educated on genetic testing, screening, and prophylactic measures. So far, one of Alexa's younger sisters has tested positive, and one is negative. The other siblings plan to be tested in the near future.
While some people fear BRCA genetic testing because it may reveal a mutation, Alexa's testing brought some consolation, helping her make sense of a cancer diagnosis at such a young age. She didn't spend much time asking "Why me?" yet still craved an explanation. "When I learned that I had a gene that conferred up to an 87% lifetime risk of breast cancer, I understood why this had happened to me." Knowing about her BRCA mutation also influenced Alexa's surgery and treatment decisions.
A little more than a month after completing eight rounds of chemotherapy, Alexa had a bilateral mastectomy with saline tissue expanders placed, the first of many steps for breast reconstruction. After this surgery, Alexa's post-treatment scans showed there was no residual cancer in her body. But six months later, she had a C-T scan two days after her final breast reconstruction surgery and the scan showed a new lesion on Alexa's liver. After several more scans and a liver biopsy, she was told her cancer had returned, this time it was stage IV.
"My doctors and I were shocked by this news, considering I had been early-stage and had such a promising outcome from treatment." In March 2015, Alexa started treatment in a PARP-inhibitor clinical trial, which is a promising option for those with the BRCA mutation. Scans in August 2015, however, showed her cancer had stopped responding to the clinical trial drugs and had progressed. "I'll be switching to a different, standard treatment. I had hoped the clinical trial drugs would work for longer, but I remain optimistic as there are still many options available to me."
In January 2015, just three weeks before her stage IV cancer diagnosis, Alexa met Sam. There was an immediate connection and the two fell in love. "Luckily," she half chuckles, "I had enough time to explain to him my past experience with cancer and that there was a chance it could come back. He understood and has supported me every step of the way. Not once have I doubted his love or commitment to me," her deep brown eyes sparkling, "regardless of how my cancer has and may affect our time together." They were married in early June, celebrating with 150 guests at a beautiful garden center.
As a high school English teacher, Alexa has always considered her students like family, "her kids." Even during her eight cycles of aggressive chemotherapy treatment, Alexa continued teaching full time, coaching water polo, and working on her National Board Certification. "I also kept up with my exercise routine of boxing, yoga, and running a few times a week." It's her students who were among her biggest supporters. "The day after I was diagnosed in 2014, I went to work and told them the news. This was very difficult for me to do, but I have such a close relationship with them that I had to share. They were incredibly compassionate: they brought me presents, decorated my classroom, brought home-cooked meals, and gave me encouraging notes to read when I was at treatment."
Alexa's cancer diagnosis coincided with a St. Baldrick's head-shaving fundraiser (that raises money for childhood cancer) at her school. This was an opportune time to shave her head before her hair fell out from chemotherapy treatment. "Several of my students shaved their heads in my honor, and one of them even shaved his eyebrows off when he learned I would lose mine," she laughs. Not to be outdone by the head shaving, the girls water polo team that Alexa coaches surprised her one day with swim caps that said: "We Play For Rod" (her endearing nickname) and bright pink T-shirts that said, "Being challenged in life is inevitable; being defeated is optional."
At work and at home, Alexa has been encircled in a community of support. This has helped bear the burden of having cancer as a young adult. "I don't blame or resent my any of my family members for passing the gene mutation to me." She acknowledges that, despite the difficult circumstances, her family is committed to moving forward rather dwelling on the past. "Once the shock wore off for some of my family members, there was a mix of sadness, guilt, and even some denial. I truly hope my family will become empowered with the knowledge they have and use it to their benefit—that would be the silver lining in all of this," she says smiling. Alexa's mother, who works in the medical field, has come to each and every one of Alexa's appointments with her to both support and help her make sense of the information she learns about her health. "She encourages me to stay positive but also helps me make logical decisions as I continue to fight."
To help make sense of the events in her life and work through the difficulties she's faced and the challenges still ahead, Alexa has found solace in chronicling her cancer journey. "It's a form of personal therapy," she concedes. As a born educator she says, "I have such a strong conviction to use any knowledge I gain in my life to benefit and empower not only people I love, but also individuals I will never personally know. Whether they are facing cancer, genetic testing results, or any challenge for that matter, I want people to understand that good can come from any situation," she nods reassuringly, "I also want to emphasize the importance of people listening to their instincts; to not ignore the messages their body is sending them; to not be afraid to advocate for themselves, ask questions, and be persistent; to accept some parts of their situation, but not feel powerless regarding the outcome."
* * * * * * *
The budding spring flowers are a pleasant reminder that warmer, sunny days are ahead. But for the Rodheim family, the spring season marks the anniversary of their beloved Alexa's passing on. "This has been such a difficult year for us," remarks Alexa's mom, Dianna, politely, "and my brain has been in a fog." Understandably so. Since Alexa's diagnosis of triple negative breast cancer in 2014 and death at age 29 on March 11, 2016, her parents have learned that five of their six children, three daughters and two sons, are positive for the BRCA1 mutation. Alexa's father, aunt, and grandfather have also tested BRCA1 positive.
"My husband has a brother who has yet to be tested," comments Dianna. "Additionally, some relatives on my mother-in-laws side of the family went for testing and learned that they were positive for the BRCA2 mutation. My mother-in-law is negative." Two of Dianna's triplet daughters (Alexa's sisters) had bilateral mastectomies shortly after Alexa passed away. "The difficult decision to have the surgery at such a young age, seemed like an easy decision for them," she explains, "They knew that having the surgery meant significantly reducing their risk for breast cancer, but it was a also a way to honor their sister's legacy."
During the time she was undergoing cancer treatment, Alexa continued to teach english to high school students, coach varsity girls water polo, and remained actively involved in fundraising for breast cancer research. She became a national board certified teacher, married her love Sam Cutler, and was a mentor to hundreds, perhaps thousands of people, on the importance of being proactive regarding health issues, including self-examination, advocating breast cancer and BRCA awareness, and encouraging those at risk to get genetic testing.
In her brief 29 years, Alexa inspired many. "She received cards and letters from strangers," says Dianna, "informing her that because of her they scheduled a mammogram or an appointment with a genetic counselor. An interview in The Daily Herald, our local newspaper, entitled "For Elk Grove High School educator with cancer, all of life is a teachable moment", gave Alexa the opportunity to explain how she used her experience fighting cancer as an example to her students on how they can face challenges in their own lives."
During the last stages of her illness, Alexa had a vision to start a foundation. The Magnolia Tree Foundation became a reality the week that Alexa entered hospice, the same week that she passed away. The Magnolia Tree Foundation has been established to provide financial assistance to BRCA positive individuals who are experiencing challenges having children. The grants can be applied toward egg harvest and storage, pre-implantation genetic screening, and in-vitro fertilization. Additionally, The Magnolia Tree Foundation will award two annual $1000 scholarships to a student at Hoffman Estates High School, Hoffman Estates, IL, the high school that Alexa and her siblings attended and to a student at Elk Grove High School, Elk Grove Village, IL, the high school where Alexa taught.
The Rodheim family's loss is profound. "Our lives will never be the same without Alexa," says Dianna, woefully. "When people ask us how we manage, our response is simple. We manage because Alexa showed us how. All of life is a teachable moment."
---
Amanda's Story
A genetic counselor, Amanda relates her story about how she chose to go into the field because of a family history of cancer, and discusses how genetic counselors enable patients to make informed decisions about genetic testing, screening, surgical options, and more.
Read more
"I went into the field of genetic counseling with the primary focus of hereditary cancer counseling due to my own family history of cancer." Amanda Brandt, MS, CGC Genetic Counselor
Do what you know and do what you love. These are words Amanda Brandt took to heart when deciding a career path. "I went into the field of genetic counseling with the primary focus of hereditary cancer counseling due to my own family history of cancer," she explains enthusiastically. Amanda chose this career to provide patients and families with the wealth of knowledge, education, and support she and her family received. "Through the process of genetic counseling, I enable patients to make informed decisions about genetic testing, screening, and surgical options for individuals at increased risk for breast and ovarian cancer. Since I have personally been through the genetic counseling and testing process with my family, as well as support my family through their own cancer treatment and prophylactic surgeries, I feel it has afforded an inside perspective and deeper understanding of what my patients are facing and some of the difficult decisions they may need to make.
"Genetic counselors are healthcare professionals with specialized graduate degrees and experience in the areas of medical genetics and counseling. "Our role," Amanda explains, leaning forward in her chair, "is to educate patients to increase understanding of and adaptation to the medical, psychological, and familial implications of genetic contributions to disease" The focus of education, she says, "is on inheritance, genetic testing, management, prevention, resources, and research in order to promote informed choices and adaption to the risk or condition."
A typical cancer genetic counseling session involves a discussion of an individual's personal and/or family history of cancer and hereditary cancer risk assessment. During the session, genetic counselors, like Amanda, will educate patients about cancer susceptibility genes, recommend genetic testing as appropriate, provide cancer risk estimates, and discuss individualized cancer screening and prevention recommendations in conjunction with a physician.
In the almost 20 years since the discovery of BRCA1, genetic testing awareness and the realization of the importance of identifying high-risk individuals has become more of a universal practice in oncology. Rather than postponing genetic testing, which is what occurred in past years, newly diagnosed breast cancer patients meeting BRCA1/2 genetic testing criteria are now immediately referred for genetic counseling because results of genetic testing may impact their surgical decisions. "For example," Amanda explains, "a woman with a newly diagnosed breast cancer who is found to have a BRCA1/2 gene mutation may consider, and even elect, to have a double mastectomy to treat her primary diagnosis and reduce her elevated risk for a second primary breast cancer associated with the gene mutation rather than requiring a second surgery for the contralateral breast after her initial surgery." Obtaining genetic test results as soon as possible, allows both the patient and her breast surgeon to have a detailed discussion ahead of time about the various surgical options based on her cancer profile, genetic test results, and family history, enabling her to make an informed decision prior to her surgery. "For this same woman, genetic testing not only provides information about her breast cancer risk, but also her elevated ovarian cancer risk associated with the BRCA1/2 gene. She is now able to make decisions about ovarian cancer risk reduction and prevention by a prophylactic bilateral salpingo-oophorectomy (BSO - removal of both fallopian tubes and ovaries)."
Amanda points out that although the medical community has been researching the BRCA1 and BRCA2 genes for about 20 years and there is published evidence of the efficacy of screening and prevention of BRCA-related cancer, there are many further advances to be made. The establishment of the Basser Center for BRCA, the only center of its kind dedicated to providing education and support for individuals and families with BRCA1 and BRCA2 mutations has a unique and significant role in furthering BRCA research and treatment. The center's mission is to deliver cutting edge research in basic and clinical sciences to advance the care of individuals who carry BRCA mutations.
"As genetic testing technology is rapidly evolving, we need to continually investigate the clinical utility, impact, and efficacy of these advancing genetic testing methods. For all these reasons," says Amanda, "the Basser Center is so crucial" Through the center, collaborative efforts are made possible with cross disciplinary focus encompassing clinicians, basic research scientists, psychologists, physicians, genetic counselors, and more. "Basser supports these researchers and investigators in order to foster collaboration to further our knowledge of the BRCA1/2 genes and genetic testing and discovery of other novel cancer susceptibility genes."
According to Amanda, motivations and reasons for patients to undergo BRCA1/2 genetic counseling and testing can vary greatly, saying, "Most patients undergoing genetic testing in our center have a personal history of breast or ovarian cancer. We also have a significant number of unaffected patients who have a family history of a BRCA1 or BRCA2 mutation and are interested in genetic testing for the known familial mutation to determine if they have an inherited risk for breast and ovarian cancer. Lastly," she continues, "some of our patients have no personal history of cancer, but have a strongly suggestive family history of early onset breast cancer or ovarian cancer, but no one in the their family has previously undergone genetic testing or has declined genetic testing. These patients are concerned about their risk for breast and ovarian cancer and want to obtain information regarding their cancer risks, genetic testing options, and medical management recommendations. For them, it is usually preferred to perform genetic testing on an affected relative FIRST because genetic test results are most informative when an individual has a personal history of cancer, but," says Amanda, "this is not always possible for a myriad of reasons."
A key goal and benefit of having genetic testing is to identify patients with a significantly elevated risk for breast and ovarian cancers so they can implement more frequent cancer surveillance at an earlier age in order to detect cancer at a more treatable stage. "We recognize these genes can cause cancer to develop at younger ages, so it is crucial to initiate cancer screening earlier than is recommended in the general population at average risk for breast and ovarian cancer," says Amanda. By identifying these high-risk individuals, genetic counselors can then discuss interventions so they can be implemented. This enables these individuals to make important decisions to either begin surveillance for breast and ovarian cancer at young ages and increased intervals, or reducing BRCA-cancer related risks by undergoing prophylactic surgery. "Studies have demonstrated longer survival, cancer risk reduction and prevention, and better long-term outcomes of BRCA1/2 gene positive patients who undergo prophylactic surgery to reduce their risk for breast and ovarian cancer."
"Information gained from genetic testing is not only pertinent for the patient, but also their at-risk relatives," Amanda adds. The biggest drawback for a person, says Amanda, "is the potential emotional response to knowing they are positive for a BRCA gene mutation and being faced with making difficult, life changing decisions about surveillance and prophylactic surgery."
"Since discovering the BRCA1/2 genes, we have only just begun to demonstrate the impact, implications, and utility of continued research studies of the BRCA genes," Amanda says. Moving forward, she believes, "continued BRCA research is providing a better understanding of the biological behavior of the BRCA1 and BRCA2 genes, as well as interactions the BRCA genes have with other genes" This may aid in modifying someone's cancer risk based on his or her specific mutation in the BRCA1/2 gene and other genes. "Perhaps," she says, "certain mutations confer later age of onset of cancer or lower cancer risk which could help in an individual's decision making of timing of surgery or initiation of cancer surveillance, as well as clinician's recommendations" Additionally, there is ongoing research to create targeted cancer chemotherapy and treatment for patients with a BRCA-related cancer (ie. breast, ovarian, or pancreatic cancer). Research will continue to advance and improve recommended screening modalities and early detection of BRCA-related cancers, says Amanda.
But for now and the foreseeable future, BRCA1/2 genetic testing will remain the key diagnostic tool to identify patients and families at risk for hereditary breast and ovarian cancer. "With technology advances, our sensitivity will continue to improve. Continued BRCA1/2 genetic testing improvements and understanding may help move towards personalized cancer risk estimations and medical management than we are able to provide to date."
In the future, there could be BRCA1/2 mutations that are identified that the current technology is unable detect. "We've already observed this possibility with BRCA1/2 genetic testing in the past few years. When BRCA1/2 genetic testing was first initiated, gene sequencing technology was only used to detect mutations," Amanda explains brushing away wisps of hair. "However, we later discovered there can be large deletions and duplications (otherwise known as large rearrangements) of these genes which are missed or undetectable using gene sequencing techniques" As a result of these discoveries, genetic testing modalities were improved and are now able to capture these additional mutations. Patients undergoing BRCA1/2 genetic testing are now recommended to receive both gene sequencing and large rearrangement analysis of the BRCA1 and BRCA2 genes, since mutations detected on either analysis result in the same elevated risk for breast and ovarian cancer.
In its early years, when BRCA1/2 genetic testing was first being offered, eligible women were often those who had already developed breast or ovarian cancer. Most of these women were in their 30-40s or older and may have already had their families. The purpose of testing for these women was to help aid in surgical decision making for cancer treatment and risk reduction. Now that more and more families have undergone testing and BRCA1/2 mutations have been revealed, says Amanda, "there are an increasing number of unaffected, young patients in these families who are gene positive" and learned of the inherited nature of the cancer risk in their family at much younger ages than preceding generations. These "previvors," as they are referred to, "are making decisions about increased cancer surveillance and undergoing prophylactic surgery at younger ages" These surgeries, Amanda indicates, may be before these women are in a committed relationship or have children yet. "As a result, we are discovering unique challenges such as effects of early onset menopause and timing of surgery, reproductive decision making, and option of preimplantation genetic diagnosis. For example, young women may find themselves navigating questions of whether and when to disclose their BRCA status in the course of dating. They may also have to consider the option of prophylactic surgeries and the reality of age-related BRCA1/2 cancer risks and how this may impact their plans or dreams of having children or being able to breastfeed. These issues faced by these young women are radically different than a woman who learns she has a BRCA mutation after her first breast cancer diagnosis at age 50, for example."
Amanda says, with an exuberant smile, "If I was going back to school and deciding what I wanted to do with my life, I would pick this career over and over again. I have the opportunity to truly get to know my patients by spending at least an hour with them on their first visit, helping them make educated and informed decisions regarding their health, working with them to disseminate their genetic test results to their family members, and offering them continued support and education over time, as needed. These women and men are finding ways to incorporate their genetic test result and knowledge of their cancer risk into their daily lives and decisions" They are using genetic testing "to empower themselves for a better, and hopefully, cancer free future," Amanda comments. "People at risk for hereditary breast and ovarian cancer should realize knowledge of their inherited cancer risk status can be empowering, but most importantly — education, awareness, and early detection are key!"
---
Amy's Story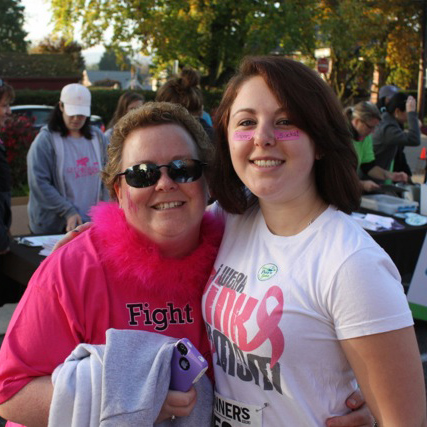 Learning of her BRCA2 mutation after an unexpected breast cancer diagnosis, Amy discusses sharing the news with her family, how they handled that information, and how the mutation informed her cancer treatments.
Read more
"Even though it was irrational, I felt as if I brought cancer upon my entire family."
As an I.T. specialist in the healthcare industry, Amy Hermann is used to providing the platform for individuals to access health information. Except for routine check-ups, she enjoyed good health, rarely having the need to see a physician. A baseline mammogram in 2007, diagnostic tests, and more mammograms over a few years began Amy's journey to acquire information on why she, a healthy young woman with no strong family history of breast cancer, was suddenly diagnosed with it.
"When I had my baseline mammogram at 39, I got a call back from that. They took more pictures, said everything was fine, but wanted to check it in six months." Six months later Amy returned for screening and then went annually with no issues until her mammogram in October 2011. "I was called back for a diagnostic mammogram and I wasn't too worried because on two other occasions I had been called back and everything was okay in the end. Plus I had two clear mammograms in between. This time was very different, they only took two or three pictures and said, 'You will need the ultrasound.' Three doctors and about twenty hours later I had a breast biopsy. A week later my breast specialist said, "It's cancer."
Amy was 42 years old. There was no history of pre-menopausal women with breast cancer in her family. Her grandmothers had cancer later, one in menopause and the other was in her eighties when she had it. "My specialist, God bless his soul," she says indebted, "kept saying, 'You're so young.' It was probably a combination of my age and we didn't have the HER2 status yet. My cancer was appearing to be triple negative cancer." Her doctor felt strongly Amy should get genetic testing.
"Even though it was irrational, I felt as if I brought cancer upon my entire family," Amy says about being told she has a BRCA mutation. "It's bad enough to find out you have cancer and all that means to you and those that love you, but then to find out it is 'contagious' to those you love most was truly terrible. Not really contagious," she clarifies shifting around in her chair, "but their risk is high as a result of the BRCA mutation."
Upon learning this news, Amy first shared her results with her parents and three sisters. Timing for genetic testing differed for her family. "It was easier for a parent to be tested and determine whether their children, particularly daughters, would even need to be tested," she explains. "After me, my dad went for testing. He came back positive. One by one my three sisters went for testing. Two are positive, the other is negative. We notified my uncles and cousins. Knowledge is power," says Amy, "However, it is scary knowledge. Not all of them reacted the same way." Of her dad's two brothers, one chose to have genetic testing and one declined; each has children and grandchildren. As results came in, the family was able to determine that the BRCA mutation was passed down through the men in her father's family.
For Amy, genetic testing provided clarity for decision-making for her breast cancer treatments. "There was no longer the question, 'Will I get a lumpectomy?' It was absolutely a bilateral mastectomy," she says firmly. "My doctor said with the BRCA2 mutation, there's an increased chance it will come back in the other breast within five years. Well, I didn't want that," she says emphatically. "I had my ovaries and fallopian tubes removed three weeks after my last chemo treatment to prevent ovarian cancer."
The majority of BRCA2 cancers are usually hormone estrogen receptor positive. Laughing, Amy says, "Of course I had to be an exception on everything. I had triple negative breast cancer. And when I was getting all of my scanning done they noticed my thyroid was enlarged. So they recommended I follow up and get it taken care of."
Through her employer, Amy is enrolled with Blueprint for Wellness, a comprehensive program designed to help improve patient understanding of their health and well-being by providing new insights through laboratory results. "I have this great baseline of every measure test possible," she explains. "I was able to track and understand what changed with my thyroid. It was affected by my chemo treatments. Now I am on maintenance medication for the rest of my life."
Amy finds it ironic and disconcerting that she went from never being sick, never taking any medications or seeing doctors for ailments to having a diagnosis over which she has no control. "I don't deal with that, so my only sense of control is I went to Staples." Her voice rises an octave with excitement. "And I bought a notebook and tabs, and business card holders and dividers, and folders and little heart stickies and pink pens," she itemizes. "And I got all ready for all of my appointments. Every piece of information I would get, I filed. I had tabs for all of my different doctors and I printed out an 18 month calendar and I wrote all my appointments down. THIS was my sanity," she emphasizes. "The only thing in the whole situation that I could control was how I managed the information that was coming in. I started with a one inch binder and then I had to move to a three inch binder. It still doesn't hold all of the stuff I have," she exclaims.
It's really no wonder she's outgrown her initial notebook. On a regular basis, Amy sees five specialists that manage her risks and current health problems. "Now I see my breast specialist once a year, my oncologist twice a year. As soon as I found out I have BRCA2 I made an appointment with a dermatologist for melanoma screening due to my increased risk. I've already had suspicious moles removed but so far everything is okay. I have recurring appointments with my dermatologist and my endocrinologist for my hypothyroid. I see my GYN every two years now."
One of the most important things Amy has learned during the course of her journey is not to judge others, especially when it comes to genetic testing "because no one else walks in the other person's shoes. Knowing what I know now, if I was a patient without cancer and tested BRCA positive, I would go the route of reducing my risks. Getting cancer, no matter how small it is when they catch it, you know if you have it – you have it. I don't want to catch it early, I don't ever want to get it! My sisters have done different preventative measures. I didn't weigh in until they made their decisions on anything because it was their own decisions and they have to be comfortable with them. I wanted my daughter to make her own decision but she had already made her mind up what she was doing."
From the day Amy's daughter learned of her BRCA mutation, she asked when she could get tested. She was only 20. "I really needed to hold her off, get through my treatments and have her in a better place than me being visibly sick in front of her. They recommend genetic testing at age 25 but my daughter chose to test early. She wanted to know and my niece did too. My daughter and niece were 21 and 19 respectively when they decided to test a year after my diagnosis." Amy's niece is negative, her daughter is positive. For her son, age 14, they are following a recommendation of testing at age 30. If that changes or if he decides to have children before 30, then he'll have his genetic testing.
Through all the tumult and turmoil, Amy is very glad her breast doctor suggested genetic testing. "It changed my whole course of therapy. It's had long ranging impacts for the rest of my family. There aren't very effective screenings for ovarian cancer; knowledge allows you to understand your options and risks and make life-changing decisions.
"I have a couple great support groups which help me when I need it. My primary oncologist is one of the best specialists in the world. My family and friend support systems are great as well." Amy and her husband have been together for 27 years and married for almost 24 of them. "He was and is my rock," she says, full of emotion. "He was there for me through the entire process. He never looked at me with anything but love in his eyes, even in my darkest moments. Having cancer has changed my whole philosophy on life. I try not to sweat the small stuff. Getting older is not a tragedy, nor a right. It is a gift. I want to get older. I don't ever, ever, ever wish a day away. You never know how much time you have left, no matter your circumstances. I remind myself that each day and every birthday is a privilege."
---
Angela's Story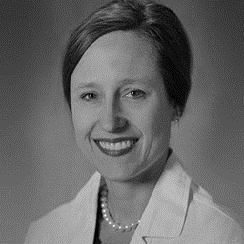 A medical oncologist at the Basser Center for BRCA, Angela discusses the importance but potential difficulties of sharing genetic information within BRCA families, particularly the conversations parents have with their children.
Read more
"There are still people who are fearful of BRCA genetics, but I'm hoping that people will continue to be able to see genetics as a resource and powerful, and not terrifying." Angela Bradbury, MD
To tell or not to tell? That is a question Dr. Angela Bradbury confronts and examines every day as a researcher and clinician at the Basser Center for BRCA. Through her work in the treatment and prevention of breast cancer, she began research focusing on communication of genetic information within BRCA families, specifically how and when parents talk to their kids about mutations and how kids, teens, and young adults view cancer risk and what they do with the information.
When she was training in cancer genetics at the University of Chicago in 2003, Dr. Bradbury worked very closely with both physicians and genetic counselors that were developing an original method of genetic pre-test counseling and disclosure counseling. Her first line of research focused on how and when parents talk to children about their BRCA results. Her interest regarding family communication of BRCA originated from her encounters, as well as those of her mentors and colleagues, with patients and their needs. She explains, "We were interested in whether parents talked to their children at all. At the time, most were mothers, although more recently we're encountering more fathers as BRCA genetic testing has expanded."
"So initially it was mothers struggling with how and when to tell their teen and young adult daughters about the (BRCA) mutation in the family. My experience is that some mothers are very protective and it caused a great deal of anxiety and distress for them to be thinking about telling their daughters." The ongoing debate about testing children for BRCA1 and BRCA2 was another reason Bradbury and her team were interested in studying communication between parents and children. The tradition in the medical field has been to not test children and adolescents for adult-onset disease because there was no immediate clinical benefit. Those have been guidelines that have been in place for many years.
In unstructured interviews with over 200 parents who had tested both negative and positive, Dr. Bradbury and her team asked patients how and when did they share information with their children. Her data suggests that by the mid-teens, most parents are having some conversation with their children. "What is interesting, and has been actually endorsed by our pediatric and adolescent collaborators," Bradbury says, "is that parents tend to share information in little bits and pieces. (Parents) told us, 'I have multiple small conversations with my children about this.' One of the best strategies (for a parent) is to be honest with children, to be open. When a child initiates the questions, answer them honestly, concretely. Don't use a lot of euphemisms because that can lead to misunderstandings or confusion. Share information in little bits and pieces. You don't have to share everything all at once, but rather follow the cues of your child or adolescent. They may not be ready for everything, but they'll ask you questions that they are ready for. If you just follow their lead, you're likely to be sharing information in a way that they can handle."
What may complicate communication, Bradbury indicates, is that parents are also coping with adjusting to this identity of being at risk, whether that's in the setting of a cancer diagnosis or no cancer diagnosis. "One of the great anxieties parents shared is their anxiety for their children." In clinic, Dr. Bradbury sees mothers who are very protective; other mothers are bringing in their 18 year old daughters to clinic and these mothers have their own anxiety that is being transferred to their daughters. "One of the greatest predictors of daughter anxiety about breast cancer and in general," she adds, "is not the degree of family history, it's not whether mom has a mutation. It's how mom is doing. If mom is anxious or fearful, daughter is more likely to be anxious or fearful." If mom takes care of her own needs Bradbury explains, she can then take care of her kids. "But many times I see these BRCA families that struggle. These are hard decisions for many people. I've been seeing more men come in lately and they're really struggling with what the implications are for their daughters."
Recently Dr. Bradbury received supplemental funding from the National Institutes of Health to develop an educational website for mothers and daughters that will be within the Basser Center's Legacy Girls Study. Bradbury says there is a lot of data outlining what misperceptions daughters have and the initial conceptualization of the website is to address some of the strategies for coping. "It's for mothers and for daughters, and talking about how mothers cope, how daughters cope, how different people cope, how you need to know how you cope and how you cope together."
The reason it's important for patients to communicate BRCA test results, positive or negative, stresses Dr. Bradbury, is to change the story in the family: "And the way to change the story in a BRCA family, "she says, "is for people to know their status so that those who need to get screening or consider what is the right risk-reducing option for them can act on that (information). Some won't need to (act) because if they have a known mutation in the family, some of them in the best-case scenario will test true negative and they will follow general population guidelines. We can decipher that within a family. It's amazing how we can change that history and that tragedy in these families touched by cancer. And to me, that's really exciting. In some cases, there are stories of cancer survivors in a family and in others, there hasn't been that experience. Some of these individuals have lived under this veil of doom because they just feel destined with this (cancer) and changing that (family) history is so important."
Families are complex and a big challenge, Bradbury says, "there will be at least one or two people in a family who want nothing to do with genetic testing. We see it in families where an unaffected individual comes in and wants (genetic) testing and the best person in the family to test is her sister who's been through breast cancer, and that sister doesn't want anything to do with (genetic testing). We see that a lot, we don't have the right person in the family to test. We want that sister, who is the best person, to test of her own volition. It needs to be her decision."
When Dr. Bradbury sees patients on a regular basis she will "pick away" at what's going on in the family. She'll often ask, "Who has been spoken to, who has not, what's happened? I say to my patients all the time, particularly those who have carried the burden of their relatives who won't test, 'Don't worry about it. You've done everything you can. Just keep the lines of communication open because over time, this changes."
Dr. Bradbury, always upbeat and energetic, encourages her patients to be patient with their relatives, to be a resource, and remind them of the importance of keeping the door open, but also to give them time, because often, she says, relatives will come around. "It just takes longer for some people than others. And our hope is that they come around before there's a negative consequence. There are still people who are fearful of BRCA genetics, but I'm hoping that people will continue to be able to see genetics as a resource and powerful, and not terrifying."
---
Danielle's Story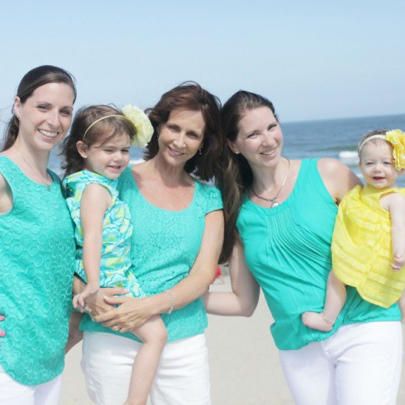 Though she hasn't been tested yet, Danielle comes from a family with a known BRCA1 mutation. She shares her story about exploring her options, supporting her sister who was tested positive for the mutation, and planning for the future.
Read more
"We always sort of knew the cancer in our family was hereditary."
The Altersitz family tree is strong. Even with its many branches, the family sways in the same direction. Danielle, the youngest of three children, happily points out that she and her adult siblings live within a few blocks of each other and their mom and dad. This kind of loving and steadfast family bond, Danielle says, makes it much easier to deal with their risk of hereditary cancers.
A few years ago, Danielle's older sister, Katrina, learned through a blood test while pregnant with her second child, that she was a carrier of Canavan Disease, an inherited genetic disorder that causes progressive damage to nerve cells in the brain. Her daughter does not have the disease, but this made Katrina wonder if she was a carrier of other diseases, especially considering the family history of breast and ovarian cancer.
When she was turning 31, Katrina had BRCA genetic testing. After receiving her results, Katrina called her parents, Avé and Russell, Danielle and their brother, Martin, asking if they could all get together. "We all met at my parents' house. Katrina felt it was important that she was the one telling each of us and to let us know that we are all in this together," Danielle recalls.
"At first, I was sad for her. I couldn't believe that it was really true. Then, I was happy that she knew so she could at least begin to plan accordingly. I was scared, too," Danielle says shaking her head. "Scared because of how much we've been through: losing women so close to us to breast cancer and ovarian cancer."
When she was just nine years old, Danielle's paternal aunt died of ovarian cancer. Her grandmother died of breast cancer when her dad was just 14, so Danielle never had the chance to know Grandma Hilda. Both women died in their early 40s. Katrina's mother-in-law and her close friend also died of breast cancer. Her friend was only 30 years old.
"As my sister put it," Danielle explains running her fingers through her long, silky brown hair, "we always sort of knew the cancer in our family was hereditary." Once Katrina tested positive for the BRCA1 gene, the Altersitz family began doing as much research as possible. "We went as a family to a genetic counselor and chose to see Dr. Bradbury at the University of Pennsylvania." Danielle's mom worried the BRCA mutation came from her. "She doesn't know a lot of her history, but she felt she had something to do with it. When we met with the genetic counselor and mapped out our family history, it showed mom the chances of her being the carrier were slim."
Her sisters' BRCA results prompted Danielle's dad to get tested. "He was hesitant at first because we were assuming the gene was from him. I think a lot of it had to do with feeling guilty." Because of his heritage and family history of breast and ovarian cancer, Danielle's family were sure he was the carrier of the gene, "so it didn't come as a surprise when Dad tested positive for the same gene as my sister," she adds.
"After discussing options, researching, and Dad testing positive, I knew I needed to know. Genetic testing gives me the chance to fight before the fight really starts." Danielle says self-assured. "But," she pauses slightly, "there are still things that I would like to have in place before getting tested."
Danielle was a few months shy of turning 25 when her sister received her BRCA test result. Katrina's BRCA positive result allowed Danielle to qualify for early breast screenings at the age of 25. Currently, she has breast MRI surveillance every six months and will continue this regiment until she has genetic testing. "Once I've been tested," she explains, "dependent on my results, I will continue with screenings and look into other preventative measures such as (prophylactic) surgery."
Unlike her sister, who has been married for 7 years and has two daughters, Danielle is just newly married. At age 26 now, she and her husband need to consider when to have children and how that decision will be affected by a positive test result of a BRCA gene. "Luckily," she says somewhat relieved, "I have some time before making decisions about surgery. My entire family is unbelievably supportive. We have a sense of humor about it and try not to let BRCA dictate our lives. My husband says that no matter what he will be next to me every step of the way," she smiles with confidence. And for now, Danielle challenges herself to just enjoy her twenties , her husband, and her family without over thinking what she may want to do to lower her cancer risks later in life.
The experience of managing and coping with hereditary cancer has made Danielle wise beyond her 26 years. Perhaps her interest in biology and her being a middle school STEM (science, technology, engineering and math) teacher have also helped her appreciate the importance of understanding genetic risk factors. "If you don't know much about your own family," she advises, "you should try your best to find out. I know genetic testing isn't for everyone, but it certainly can help individuals understand better and plan. By knowing your risks, you can choose what is best for you."
As she awaits her genetic testing, sometimes patiently and sometimes anxiously, Danielle remains vigilant with her health and looks up to her older sister Katrina for strength and guidance. "My sister has been such an amazing role model and so strong through all of this. We're walking this journey together. She's paving the road for me. If I come up negative, I'll feel guilty. I can't imagine her being positive and me being negative."
---
Gene's Story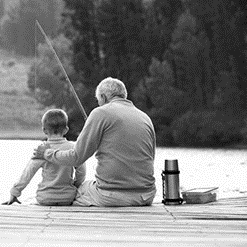 Gene shares his story of living as a BRCA mutation carrier and previvor, how he chose to get tested to protect his children and grandchildren, and the lifestyle choices he has made to help keep cancer at bay.
Read more
"My family history of cancer increased my concern for my children and grandchildren."
When Gene's sister told him and his wife she carried a BRCA mutation, the alarm bells silently went off. All the important women in Gene's life - his wife, mother, and sister - had all had breast cancer. Gene's wife does not have a BRCA mutation, so when his sister revealed her BRCA news, "My wife prevailed on me to get the test," he says. "My family history of cancer increased my concern for my children and grandchildren." He wanted them to be aware and take appropriate action, if necessary. This was the impetus for Gene's journey to uncover the truth about his genes. Unlike many genetic conditions, BRCA can be inherited from just one parent who is a mutation carrier. "If the test showed that I did not have the gene [mutation], we would then know our son and daughter don't have it."
After meeting the genetic counselor and going through the routine testing, Gene learned he, like his sister, carries a BRCA mutation. There was never any doubt about sharing his results. "My wife told our son and daughter and suggested they be tested. They understood the importance of being tested and did so willingly. I was relieved to learn that they do not have the gene [mutation]."
As a male BRCA mutation carrier, Gene was advised to perform routine breast self-exams as screening. "I do an occasional breast self-examination, usually after being prompted to do so by my wife. When she reminds me, usually a couple of days after, I do it," he explains. Gene seems appreciative, though, that his wife is much better at remembering the breast self exam than he is, "I'm not that good, she's really good," he laughs.
At his wife's prodding, Gene has adopted a more sensible balanced diet, although he admits again, she is much better at it than he is. "She has been after me a long time to eat better. I bit the bullet and did it," he says. "I still have my sugar cravings and indulge myself with my desserts and pastries but I don't overdo it too much. I do eat a number of fruits and vegetables a day, a salad a day, and I cut out sodas about a year ago," he adds.
"My general philosophy is to stay as mentally and physically active as possible. My own view," he patiently explains, "is that we all have risks, heart issues, you name it, they're out there. I'm an advocate of exercise. I believe that staying as physically and mentally active as one can for as long as possible is the most important thing. I believe that it reduces stress, something I consider a leading cause of illness, and helps to maintain or at least slow the deterioration of one's physical and mental abilities. Exercise is one form of stress relief that I think is a good thing."
Gene, who is now 71 and has been a runner for 40 years, engages in a variety of activities to keep fit. "I bike when the weather is nice. I love to walk. When we're in interesting cities, I walk five miles, eight miles in the city, at a time." Even his son and daughter, whom are BRCA mutation negative, stay active and eat healthy. "My daughter is involved in athletics and my son does his exercises to try to keep in shape too. My daughter is much more conscientious in terms of healthful eating than my son," he says. Other than the "prompted-by-my-wife" breast-self-exams" and reducing his sugar intake, Gene says, "I'm not really doing anything different than I would do without knowing that I had the BRCA gene."
Gene decided to share his story anonymously because in general, he does not post information about himself online and prefers to keep things private, BRCA and beyond.
---
Harvey's Story
BRCA-related breast and prostate cancer survivor Harvey discusses his diagnosis, his surprise that he could get a "woman's disease," and his journey to recovery, which includes managing his future cancer recurence risk.
Read more
"The doctor looks at me and tells me I have breast cancer and there was just shock and surprise that I could get a 'women's disease.'"
It felt like a pulled muscle in his upper chest. He rationalized it was probably caused from his golf swing. Then he received a huge bear hug from a close friend that sent shooting pain up through his shoulder. "I thought it was just from getting older and even being a little flabbier," jokes Harvey Singer. The warning signs in his body didn't wane after four months or so and, having a sister with a BRCA mutation and three occurrences of breast cancer, Harvey knew, in October 2008, it was time for a medical exam. This began his journey with hereditary male breast cancer and prostate cancers.
"I knew it was coming," Harvey sighs. "The fact that my sister is BRCA2 positive and already had breast cancer, I didn't have much doubt. Still, the doctor looks at me and tells me I have breast cancer and there was just shock and surprise that I could get a 'women's disease.'" The disbelief still resonates in his voice more than five years later.
Three weeks after his breast cancer diagnosis, Harvey, 54 years old at the time, underwent a complete mastectomy of his left breast. Although his lymph node dissection was negative for traces of the cancer, his Oncotype DX test, which quantifies the likelihood of disease recurrence in early-stage hormone estrogen receptor positive breast cancer and assesses the response from certain types of chemotherapy, revealed a high likelihood of a recurrence.
From visits with his internist to surgeons to three oncologists, Harvey quickly discovered there was a definitive and consistent lack of information for treatment of male breast cancer. "I saw three oncologists, actually four," he explains, "as I ran into one from Dana Farber in a snow storm, but the three opinions had three different regimens." Frustrated and confused, he questioned every decision he had to make regarding chemotherapy and hormone therapy. After analyzing what little literature he could find from the internet and comparing notes from the doctors, Harvey decided to have Cytoxan and Taxotere chemotherapy followed by Tamoxifen therapy.
As a result of his mom, aunt, and sister having had breast cancer and his sister's BRCA mutation, Harvey knew genetic testing was also part of his cancer treatment plan and met with a genetics counselor soon after his mastectomy. The test showed he is BRCA2 positive. Harvey is one of the 5-10% of male BRCA2 carriers that develops breast cancer and one of the up to 15-25% of male BRCA2 carriers to develop prostate cancer. BRCA2 carriers also have an increased risk of pancreatic cancer and melanoma.
In 2006, Harvey was under the care of a urologist who monitored his blood level of Prostate-Specific Antigen, which can be elevated in men with prostate cancer. "I had my first prostate biopsy in 2007," he recalls. "It was negative. My PSA was 6.8 at the time." Over the next few years, Harvey's PSA levels continued to rise. At one point the levels jumped every six months and he had another prostate biopsy. "So now I had prostate cancer. I feel maybe my doctor missed it," he says, exasperated. "Having a BRCA2 mutation, there was no option than to have a prostatectomy," he says. That surgery was in June 2010.
Diagnosed with two different BRCA2 cancers 18 months apart, Harvey began researching every possible way he could improve his health and immune system. "Hope is not a strategy," he asserts, "and sugar is the ultimate enemy of cancer because it depletes the body's immune system to fight off diseases. I personally believe this has much to do with cancer." In 2010 Harvey began a ritual of maintaining a healthier lifestyle by reducing sugars, including his intake of alcoholic beverages, and adding more greens and all organic foods to his daily diet. "I've already had BRCA induced cancer twice," he emphasizes. "My life now is about preventing recurrence."
Ongoing screening is a vital part of Harvey's prevention plan. "I'm screened for PSA, I get a breast MRI, mammogram, and also an endoscopic ultrasound for my pancreas annually. The doctor's appointments are never ending," he sighs, "But if I don't do it, it could be detrimental to me."
To help cope with the stresses of managing and living with hereditary cancer, Harvey sees a therapist on a monthly basis. "I seek positivity in my life and try not to dwell on the negatives. My biggest fear is that I did pass this gene along to one or both of my sons. This is the hardest part." Neither of his sons, 29 and 31, are planning on marrying and having children anytime in the near future. "My wife and I have discussed all aspects, as they are grown men with lives and careers. They have decided to wait on genetic testing."
In addition to therapy, Harvey and his sister, Vicki Singer Wolf, in 2010, founded His Breast Cancer Awareness, a non-profit organization that fills the information void on male breast cancer prevention and treatment. "I tell people I have two full time jobs, one that pays me, one that rewards me." This organization serves as a resource for men and their families. To Harvey, the foundation "is as therapeutic for me as it is for them."
One of the most essential things Harvey learned during his journey is, "You have to be your own advocate." He believes it's extremely important for men to check their breasts. "They should ask their doctor to check their breasts at their physical exams. The doctor usually checks the prostate, might as well check the breasts. And it only takes a minute or two," he advises.
More than five years have passed since Harvey heard the words, "You have breast cancer." He is doing everything in his power to ensure this uninvited guest does not return. Routine surveillance, eating healthy, and staying fit with regular exercise are his primary tools for prevention of recurrence or new cancers. "I live with the fear of recurrence as all cancer patients do. It is still a work in progress. It will always be a work in progress," he says, recognizing the reality of his situation. "I will always be a cancer patient no matter how healthy I am."
---
Jasmine's Story
Jasmine discusses what it's like to be part of a large family with dozens of members who have been diagnosed with cancer, and how, as a BRCA2 mutation carrier and previvor, she juggles doctor's appointments, cancer screenings, and the hidden pressure of marriage and childbearing.
Read more
"It's a bit difficult to have to worry about one more thing that controls my destiny. But I have no choice but to take care of it."
She starts naming the long list of family members - mom, grandma, great grandma, three great aunts - as if she's pointing to their pictures in an old photo album. But Jasmine Skinner is actually ticking off these names on her fingers. When she gets to her dad's side of the family, she quickly runs out of hands. Jasmine has more than a dozen immediate and distant family members who have been diagnosed with cancer. This would be disconcerting to anyone, but sadly for Jasmine, it is the only reality she's ever known because her journey with hereditary cancer began at her birth in July 1986.
"Mom, at age 34, had breast cancer when she was pregnant with me," recalls Jasmine, relaxing in a chair after a long day at work. "And right after I was born she had to begin chemotherapy and radiation treatment for breast cancer." The cancer went into remission for 13 years and then it struck again.
"When I was 13, Mom got breast cancer in her other breast. I remember going for treatment with her during the summertime." Jasmine was exceptionally close with her mother, Thelma, which she attributes to the large age gap between herself and her four older sisters. "I had a lot of time to hang out with Mom. Anywhere she went, I went. I didn't really know what cancer was at that age. I didn't know that Mom could die from it. I just knew she needed treatment. In my mind, it was just for her to feel better."
While she was at Cabrini College, in 2004, Jasmine's dad, Carroll Skinner, died from cancer. Her mom, meanwhile, enjoyed good health until cancer struck again in 2010. This time she had pancreatic cancer. "We didn't know where the cancer was coming from," explains Jasmine. "During her treatment, Mom was tested for BRCA. And around this time, Carlette, my third oldest sister was diagnosed with breast cancer. Carlette didn't want Mom to worry as she was going through her own cancer treatment. Since Carlette and I have grown really close since we've worked together for the past 10 years, I was the only family member she told. Of course she said I wasn't allowed to tell anyone." Carlette, age 36, also tested for BRCA. Mother and daughter, Thelma and Carlette, both tested positive for a BRCA2 mutation.
Jasmine's mom passed way in April 2011 after chemotherapy and other medications failed to help her. Jasmine had buried both of her parents by age 24. "At this point I was kind of terrified," she recalls. "Carlette suggested all of my siblings get BRCA genetic testing. I really didn't want to know, but I wanted to know. I don't like surprises and didn't want to be like everyone else who had cancer in my family had been."
Jasmine and two of her three older sisters went together for genetic testing. Carlette accompanied them for emotional support. One sister has opted not to have genetic testing. When it was time to receive her results, Jasmine chose to meet with the genetics counselor alone. "If we all found out together and my sisters didn't have it and I had it, I didn't know how I'd react. I didn't want to have family with me in case I was bitter," she says. Her two eldest siblings got their results first: each are BRCA mutation negative. "Since they tested negative I had a feeling I would have [a mutation in] BRCA2. I went into to the appointment thinking we're drawing straws," she laughs. "I'll be positive, so maybe if I was negative I would be surprised, relieved. When they told me I was positive, I thought that I would laugh, but I was very angry. I completely broke down, crying, 'You have got to be kidding me.' I thought, 'Why do I have to get it?' They started going through the statistics and I just didn't want to hear any of it. So I got up and walked out at that point."
Scared and shaken, Jasmine, who is deeply religious, immediately called her pastor and spoke to his wife. Then the pastor got on and prayed with her. "I went home and I cried. I prayed and then I cried more. I blocked Carlette from calling me. I didn't want to talk to anybody. But Carlette isn't the kind of person who won't allow you to not talk to her. As we are the closest, I only told Carlette because she had experience with it. I didn't tell my other siblings until much later. I was very bitter," she says openly, "because my oldest two sisters tested negative. I remember thinking how unfair it was - they're older, they've had their kids and are married or are in a long term relationship. They don't really need their 'female parts.' And my other sister didn't get tested at all; she was scared so I didn't want to make it worse for her."
Struggling to understand why she had "been cursed with such a sentence," Jasmine found comfort from Carlette and her faith, explaining, "Carlette was my rock as she battled it herself and had a good outcome. She is such a strong person and her faith never ceased so we prayed together and talked often. She sent me scripture to read. She's gone through the worst. I continued to go to church. I would take walks and talk to God and it helped me cope and find acceptance of my situation," she says peacefully.
With the advice of her physicians, Jasmine manages her increased cancer risk with routine screening, alternating every six months between a mammogram and breast MRI. "That way, if there is a warning sign, they can catch it as early as possible," she says and admits one of her biggest challenges is just making time for the appointments. "It's a bit difficult to have to worry about one more thing that controls my destiny. But I have no choice but to take care of it. I don't think I'll ever be as normal as women without the gene mutation. Even though I'm regularly monitored, the gene is with me at all times. It's not going anywhere," she jokes, "I wish it would!"
"I try to forget about it as much as possible, I honestly do," confesses Jasmine, "but now I'm dating. I feel like I pressure my boyfriend because I need to know what's going on with us. I can't keep something that's at risk for getting cancer forever," she exclaims referring to her breasts and ovaries. Jasmine and her boyfriend have been in a relationship since July 2012. On their first date she told him about her BRCA2 mutation and shared that both her parents died of cancer. She wanted him to know it all up front. Preventive surgical measures are not a consideration at this time she explains, "I want to be married one day. I would like to have a husband that understands me and loves me unconditionally, maybe have some children before I consider anything prophylactic." Paramount in Jasmine's mind is marrying and having children by age 35. Her boyfriend is caring and understanding of Jasmine's situation. After her mom passed, Jasmine stopped cooking. "Now my boyfriend cooks a healthier diet for me. I don't eat nearly as much fried food as I used to," she proudly declares. "I'm eating more veggies. I exercise even though I don't have any fat." Because of her boyfriend's influence, Jasmine lives a healthier life than before they began dating.
Even with the constant juggling of doctor's appointments, screenings, and the hidden pressure of marriage and childbearing, Jasmine has no regrets about her genetic testing. "It's better to know what's coming or what could be. My one sister to this day has not gotten tested and refuses to do so. She'd rather not know. She doesn't want to worry about it or go through life counting down the moments to which she'd get cancer," she says leaning forward, "But I wanted to know so I wouldn't end up like my grandma and my great aunts. They died because there wasn't testing and preventive care back then. They didn't have the opportunities to find out like we do. I tested to make sure it doesn't happen to myself."
"Though it's been explained there is a chance I won't get cancer, that's all I've ever seen in my family. People get cancer and they die. There has never been a time when a person who had cancer lived, so I thought initially it was my fate at the time," Jasmine says downhearted. Genetic testing and early screening has made Jasmine realize her fate could very well be different, adding, "Having a faith based system and great family support has helped me a lot." Jasmine advises others at risk to take precautions, have genetic testing, and be monitored as much as possible. "Yes," she says shaking her head, "it's scary but your life isn't over so don't waste time living like it is. Find a source of peace in whatever you wish and have fun. I am now at peace, and I don't worry about cancer as much as I used to. I just do what I need to do and go on with my life." With that Jasmine leans back in her chair quietly exhaling a sigh of relief.
---
Jeanna's Story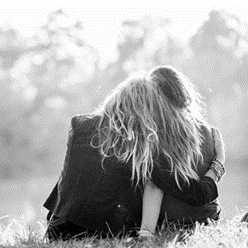 Jeanna shares what it's like to live as a BRCA mutation carrier and previvor, which involves regular doctor's appointments for preventative mammograms, MRIs, and ultrasounds, as well as other forms of testing, and the strees of juggling these and a busy family life that includes two young children.
Read more
"I really didn't think too much about it. My mom sort of pushed it, saying, 'You should do this, it's free, it's part of a study."
Remaining level headed about follow-up appointments. Taking it all in stride when her doctors find something questionable. This is Jeanna's approach to managing her hereditary risk of breast and ovarian cancers. But the past year has been unusually time-consuming with doctor's visits and tests. Many times they've found something suspicious. Fortunately, further diagnostic exams have all returned negative. Still, the inordinate amount of appointments has left Jeanna increasingly frustrated. It's perhaps the one aspect of her journey she was least prepared for when it began nearly 14 years ago.
The first time Jeanna's maternal grandmother had cancer was at age 38. It was breast cancer. "She's had other cancers too after having her breast removed and following traditional cancer treatments, she's survived them all. My grandmother is 93 now, she's amazing," Jeanna's eyes brighten with adoration. "Grandma did a lot of Reiki. She really credits that and an adequate attitude with what got her through it. She's pretty hip." At her mom's encouragement, Jeanna's grandma had genetic testing and was positive for a BRCA mutation. After learning this, Jeanna's mom, who was post-menopausal and had never had cancer, decided to have genetic testing too. She also tested BRCA positive and subsequently had bilateral prophylactic oophorectomy.
About a year out of college, sometime around 2000, Jeanna's mom suggested she and her brother have BRCA genetic testing. "I really didn't think too much about it. My mom sort of pushed it, saying, 'You should do this, it's free, it's part of a study.' I did it without a whole lot of thought. My brother and I had our testing, we are both positive. I remember calling my parents right after I got my results and said I was positive, 'It's a bummer.' But that's probably from being 21. I was disappointed, but by no means devastated. I don't think I even cried," Jeanna glances upwards in recollection. "That's not to say that I haven't cried about things related to BRCA in the years since, but the moment of finding out wasn't particularly emotional. Because of my grandmother's medical history, I had the assumption I was at a high risk for cancer. The BRCA gene was a confirmation of that. It probably helped that I was young," she concedes brushing some strand of hair away from her face, "the reality of removing my ovaries and breasts was still a long ways off."
At this juncture, Jeanna, living in Manhattan and engaged, was advised to only screen for breast cancer. Spaced throughout the year, Jeanna had a doctor's appointment every four months for a mammogram, breast MRI, or breast ultrasound. When she and her husband moved to Philadelphia, her breast-screening plan was slightly modified. "Now I only have the breast ultrasound if something is wrong. In the last two years, almost every screening required a follow up due to some abnormality and an abundance of caution on the doctor's part, so I really ended up having about three to four mammograms and breast ultrasounds a year and an MRI. Oh and," she adds waving her hand, "maybe a biopsy and an aspiration, too."
Now in her mid-30's, Jeanna has begun ovarian cancer screening with two blood tests, two vaginal ultrasounds each scheduled six months apart, along with an annual visit to the gynecologist. "I do spend a lot of time going to the doctor," she mutters. "I am trying to be sensible about when I take preventative measures. I've tried not to be emotional and just take my doctor's advice. I plan to have my ovaries removed when I'm 38. My husband has been concerned about how the oophorectomy will affect me, hormone levels, sex drive, etc. He supports me but he also has these worries. My gynecologist says for sure I'll get hormone therapy afterwards, for quality of life issues."
Jeanna and her husband have two children under age eight. "I think they're too young to share this kind of information with. I've never even considered telling them until they're in high school because I don't know what the world is going to be like then. We could be looking at really different choices. When I get surgeries in the next few years, I expect I'll limit the explanation to what they need to know." Indeed, in sharing her experience with the Stories from the Heart Project, Jeanna decided to be anonymous in part to shield her children. "I wanted to share my experience, but not my name, because I am concerned that my kids will find out about my BRCA gene and their risk for it before I'm ready for them to know. Also, I share information about my grandmother, my mother, and my brother that I don't know if they want out in the world - remaining anonymous also keeps them anonymous."
In the meantime, Jeanna carries on juggling the medical appointments on her calendar without revealing too much to her kids. "The constant screening lately really gets me down. All these appointments are taking up too much time in my life." She wipes her eyebrows, noticeably stressed. "I guess the doctor treats me with kid gloves, so any little thing that would normally not be worrisome is cause for big alarm. Just the last two months," she explains, "I've had at least one doctor's appointment a week. 'We see this, go get that. Oh, well wait,'" she waggles her pointer finger, "'we want to biopsy that,' and it ends up always being nothing, but it takes up so much time and energy. The radiologist will come in and tell me all the things that seem possibly bad to her. Then I go back to my car and I cry. It really is draining." She raises her eyebrows.
Despite the doctors' precautionary approach, Jeanna believes having good doctors that you like and trust is the key to making the screenings more manageable and bearable. "I want to be under the care of a doctor who takes the time to answer my questions, looks me in the face, calls me promptly with my test results - generally treats me well. That makes all the difference for me," she acknowledges. When she moved to Philadelphia from New York City she left behind a breast surgeon she really liked. Once here, she started with a new one who took good care of her writing scripts for screening, but Jeanna wanted more.
"This woman in town recommended Dr. Domchek to me and she's been great," she smiles, pleased. A medical oncologist, Dr. Domchek is "interested in the genes, the risk, and balancing the choices. She brings a more comprehensive approach. This is such a complicated issue, managing hereditary risk, there's no 'This is the thing to do,' so it really is important to have someone willing to educate you and give you choices. It's a big difference," she says nodding her head.
Jeanna values the choices presented by her physicians and evaluates each option with prudence. "My mother still has her breasts and has not gotten cancer. This helps me want to continue screening rather than have prophylactic surgery." Her first surgical step will be prophylactic bilateral oophorectomy. "I'm lucky that I married young," she says, "and was done having children by age 32. I hadn't had to rush my family planning due to having to get my ovaries removed. It would really complicate things if this weren't the case."
Jeanna pauses for a moment as she props up a sofa pillow. "You know it's one of these things, no one wants to get sick, and the good thing about genetic testing is that insurance will then pay for screening and you can come up with a maintenance plan. Right now, I feel it's not so great that I know," she frowns referring to her BRCA mutation, "because I just do a ton of screening, but probably one day the screening will pop-up with cancer. So in the long run it's a really good thing I know. But moment to moment, and this year in particular, it's a pain."
Above all, Jeanna is doing her best not get to worked up about her risks and let it ruin her days in between her myriad of medical appointments. "I just put the whole idea of BRCA away unless I'm at an appointment for it. I do feel a looming threat at all times," she shrugs, "but I do my best not to think about it. I would never throw in the towel and stop with the screening."
---
Ken's Story
BRCA mutation carrier and previvor Ken shares his family's story of hereditary cancer, which includes his father and grandfather, and a quest to share information and have open conversations with relatives to help everyone manage their potential cancer risk.
Read more
"I already had braced myself for it, but with all that had been going on in my life, I am not quite sure I have even dealt with it to date."
When people relay their family history of breast cancer, their list usually starts with their mother, grandmother, or sister. Not so for Ken Wagher. When he rattles off his family history it starts like this, "My father had breast cancer. My grandfather had breast cancer. My two aunts and a great aunt had breast cancer." The dizzying list goes on and on. In total, ten family members have been afflicted with some form of a hereditary cancer.
Ken is part of the small percentage of men with a family history of male and female breast cancer. His journey in discovering his hereditary risk factors began with the 2009 diagnosis of his father, Arthur Wagher. "My mother always suspected it due to my grandfather," Ken explains. Ken's grandfather, who had a mastectomy as part of his treatment, died from complications related to his breast cancer. Ken's aunt, his father's oldest sister, died at age 41 of breast cancer and another aunt, his dad's youngest sister, had breast cancer in 2008. Due to the family history, genetic testing was recommended to his dad when he was diagnosed with the disease. To no one's surprise, Ken's dad tested positive for a BRCA mutation.
From the beginning of this journey, Ken's family was open with communicating about genetic testing. "A lot of talking was done in part due to the lack of and miscommunication between my father and his siblings." For reasons that remain unclear to Ken, sometimes information was not shared with his dad or family. "I'm not sure if this would have changed anything," he says, a bit remorseful. But one thing is certain: Ken believes if his father had more information about hereditary risks, he would have had an opportunity to explore preventative screening measures for himself.
So when the time came for Ken and his siblings to discuss their own genetic testing, they were "very open with each other about it. We all kind of wanted it discussed at least," he says. "I am one of seven children. Four girls, three boys. I had three siblings get tested prior to me, with mixed results." Of the four siblings tested, three, including Ken, have the BRCA mutation. Ken's other three siblings were open about not wanting to have genetic testing. He recalls, "There were some heated debates and small family quarrels over this." Ultimately, it was their decision to make.
About three years ago, Ken had BRCA genetic testing. "It was kind of numbing," he remembers. "I already had braced myself for it, but with all that had been going on in my life, I am not quite sure I have even dealt with it to date."
After receiving his positive test results, Ken began a regimen of preventative care. "I have yearly check-ups with an oncologist, along with having a clinical breast exam." Ken also does what he calls, "breast self inspections." His BRCA-positive sisters have had the preventative surgeries. "I have been told that this was not an option for me," he says. When Ken reaches age 40, he and his physician will evaluate additional screening options such as a mammogram and prostate cancer screenings.
Unlike other men who may be uncomfortable with the topic, Ken doesn't mind talking about male breast cancer. He's found there is no stigma in having a family history of male breast cancer, commenting, "If anything, it has caused us to answer more questions for people. With all of the attention on breast cancer as of late, people are generally interested and inquisitive."
Like any health issue, there are challenges in managing and coping with medical care. In addition to breast screening, Ken also screens for prostate cancer, which he is also at increased risk of developing. "It's all a challenge," he admits. "I like knowing what may be coming," Ken says. "It gives me peace of mind being able to do everything in my control to help or be prepared for the situation." So, Ken is very good about keeping up with his medical appointments and not letting anything lapse. Staying physically active and giving up chewing tobacco, which Ken says was no small feat, is part of his personal breast cancer prevention plan.
"Take ownership," he recommends to others, "and control what you can control, let go of what you can't. Take good care of yourself. I don't know if being in better shape would have extended my father's life," he adds, "but I am relatively certain it would've increased his quality of life towards the end." Above all, Ken tries not to think too much about it at all. He looks ahead to what might be. "I am hopeful that in the future," he says optimistically, "there are more preventative options for dealing with male breast cancer."
---
Lisa's Story
Lisa discusses how she discovered that she carries a BRCA mutation and shares her story about being diagnosed with and undergoing treatment for ovarian cancer.
Read more
"My approach to life in general is pretty practical: to keep a sense of humor and to find what's positive in difficult circumstances."
As a BRCA carrier and having had ovarian cancer, Lisa has remained attentive to her post cancer medical surveillance. The first few years after cancer treatment, she had a CA 125 test every three months and then graduated to testing every six months. Visits to her oncologist were every six months and then annually.
Four and half years after ovarian cancer, in November 2015, Lisa's CA 125 level increased. She was not symptomatic. "The rise in my CA 125 was concerning," she recalls. "I went for imaging which found two small areas in my pelvis that were found to be cancerous." Upon hearing this news, Lisa felt at the same time, not totally surprised and numb.
The not surprised part, she says, "was that even though I was told after my initial surgery and chemotherapy there was a very strong probability I would be cured, I never counted on that." Lisa instead chose to be "cautiously optimistic" knowing realistically that her ovarian cancer may return. "The numb part," she adds somberly, "was because it had only been six months since my son died and I was still filled with much sadness and loss, and now had to deal with my cancer returning. I knew my husband and daughter would be in disbelief, scared, and worried. They were still grieving for their son, their brother. Would this mean that they would lose me this time around?"
After talking with her oncologist, seeking a second opinion, and after lengthy discussions with her family, Lisa chose to have surgery again followed by chemotherapy treatment. "Chemotherapy is miserable," says Lisa, "there are times when you're going through chemotherapy you wonder why you willingly do this and wonder if it's worth it. But," she sighs, "my options were either to buy some more time or not. I felt like I had to give it a try. I was very fortunate to be able to talk freely with family and friends in making this decision. I found great support from everyone."
Lisa's surgery was scheduled for the beginning of February, however, in January her pre-op test results changed all of her plans. "My CA 125 had increased dramatically. A follow up PET scan showed that the cancer had already metastasized throughout my pelvis." Surgery was no longer an option. "This was not very good news," Lisa reflects, adding, the best option at this point was to try chemotherapy and see what would happen. "Being BRCA positive, my cancer responded well to platinum based chemotherapy, so I would do this along with another chemotherapy agent. I had to wrap my mind around starting chemotherapy sooner than expected (although on the bright side- I didn't have to undergo surgery) and wait and watch for how everything would go."
Lisa had chemotherapy for six months, beginning in February of 2016. Her last treatment was during the summer. An additional agent, Avastin, was added to the mix and she continues to take this every three weeks until, "Who knows," she shrugs, "until it doesn't contain the cancer, I decide to stop it, or who knows," she repeats again.
After completing chemotherapy the first time in 2011, Lisa was consistently reminded of her diagnosis each time she went for testing or a checkup every three to six months. "Other than those times," she says, "I carried on in my life as usual and didn't think too much about it. But this time around, with a recurrence, I feel more uncertainty. But that's the way it is. Even so, I continue to work and participate in many if not all the activities I had been involved in before my recurrence of cancer." With this new uncertainty, though, Lisa says, "my cancer is always in the background. This has been a very complicated time for my family. I said earlier, life is messy and cancer has had to fit in with the challenges that I deal with day-to-day."
Her personal quest to find out who she inherited a BRCA gene mutation from still remains unanswered. Some cousins on her father's side of the family have had genetic testing, because they found out that one of them had a genetic mutation which caused a cardiac condition, so they were tested for BRCA and found to be negative. Lisa's one brother who has not yet been tested, plans to get testing sometime in the future.
The Spin-Yarn-a-Thon: Spinning Yarn for a Cause during ovarian cancer awareness month in September continues to be one of Lisa's greatest passions. She enjoys promoting awareness and education, as well as raising money for the Basser Center to further research on BRCA and cancer. "I've met some very interesting people, had wonderfully engaging conversations, and heard some touching stories," she smiles.
One particular encounter with an older gentleman touched Lisa profoundly. "At each event I display a knitted breast, since BRCA mutations can cause breast cancer, and this is an interactive way of learning. An older gentleman walked by the display, picked up the breast and asked what it was. To some it looks like a pumpkin. I told him it was a breast and he hastily put it down and walked away." Lisa didn't think much of it, only that the breast made the gentleman uncomfortable. "Towards the end of the event he came back to my table and shared that his wife died of breast cancer a year ago and that he was still coming to terms with the loss. We spent some time talking about loss and breast cancer. I was honored to have him share this sensitive topic with me." Lisa says, "It is for this reason that I share my experiences, in hope that others may learn, get support, heal, and realize they are not alone."